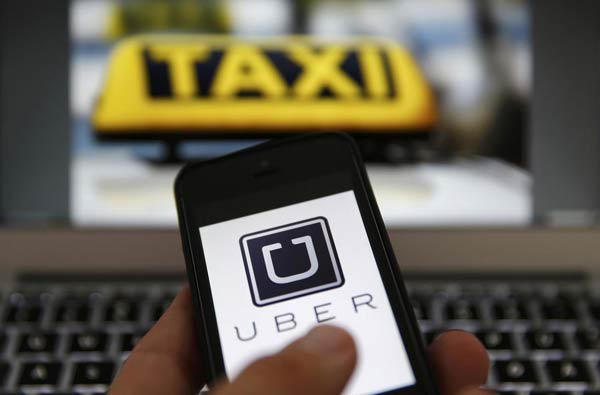 A file illustration picture shows the logo of car-sharing service app Uber on a smartphone next to the picture of an official German taxi sign in Frankfurt, September 15, 2014. [Photo/Agencies]
Uber Technologies Inc's China unit upped the ante in its ongoing battle with local rival Didi Kuaidi on Tuesday by teaming up with a top Chinese firm for various automobile-related services.
The State-owned Guangzhou Automobile Group Co Ltd said in a regulatory filing that it will work with Uber in areas like equity investment, car sales, after sales services and insurance.
The filing did not disclose the size of the investment and Uber also refused to provide details of the partnership on Tuesday.
The San Francisco-based company, valued at over $62 billion, has been seeking new local investors for its business in China, so that it can be recognized as a local firm by industry regulators.
Liu Zhen, the strategic officer who oversees the company's China operations, said in late November that the company already has several local investors and hence should be considered as a local player. Liu also offered to disclose the names of the Chinese investors.
Uber's worries stem from concerns that its US origin may put it on a confrontational course with the regulators especially as there are no regulations in place yet for the car-hailing sector.
Zhang Xu, a researcher with industry consultancy Analysys International, said an overseas player would stronger headwinds than local competitors due to the lack of regulations.
Uber has been quiet on regulatory issues while executives from Didi Kuaidi, the biggest platform backed by Alibaba Group Holding Ltd and Tencent Holdings Ltd, publicly challenged a regulation proposal floated by the government.
"Uber is keeping its head down and focusing on expansion plans because it still does not have the muscle power to take on Didi Kuaidi in China," Zhang said. Uber is planning to reach around 100 Chinese cities by the end of 2016. The company currently provide services in 21 cities.
Didi Kuaidi had more than 80 percent of the market share as of the third quarter, according to Analysys International. Uber, a remote No 2, controlled 16 percent.
Didi Kuaidi is also trying to diversify its business. The Beijing-based company said on Dec 7 it is selling cars made by Mercedes-Benz and Tianjin FAW Toyota Motor Co Ltd on its mobile app.
Uber is set to face more challenges from Didi Kuaidi on global stage.
Cheng Wei, CEO of Didi Kuaidi, told a high-level industry gathering last week he is expecting intense competition in the global ride-sharing market.