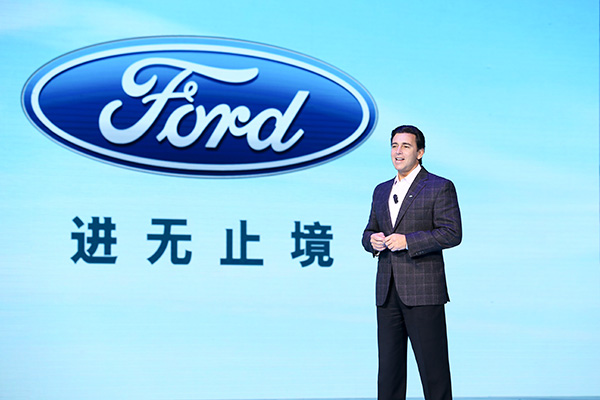 Mark Fields, president and CEO of Ford Motor. [Photo provided to China Daily]
US automaker Ford plans to introduce 20 models and pour $1.8 billion into research and development in China by the end of 2020.
The moves are part of a five-year program that Ford President and CEO Mark Fields announced at an innovation-themed meeting the company held in Shanghai on Oct 12.
The program came as a succession to the automaker's 1515 plan. Initiated in 2011, the plan included bringing 15 models to the Chinese market by the end of this year, thus the plan's name. Fields said the plan was finished with "very successful" results and "met or exceeded every one of our objectives".
"One Ford plan, products with excellence and innovation" will be the three pillars of Ford's development over the next five years, said Fields.
He said Ford will introduce two new-energy vehicles-the C-Max Energi and the Mondeo hybrid-to the Chinese market from 2016 and increase the number of models available in China with its EcoBoost engines.
Ford is now offering more efficient and powerful engines in China, at more than 80 percent of its vehicles. Five years ago, only 20 percent of its vehicles had efficient engines.
John Lawler, president and CEO of Ford China, said the automaker will continue to raise the percentage of its vehicles equipped with Eco-Boost engines and introduce other models with the latest technologies into the Chinese market.
The automaker will improve the ability of its research and development center in Nanjing, Jiangsu province. The $1.8 billion investment will help the company realize its goal of building its vehicles in China for Chinese customers.
One of Ford's eight research facilities worldwide, the Nanjing center has a staff of more than 1,900 engineers and has played a role in the development of such models as the Taurus and Escort.
Fields also emphasized Ford's commitment to innovation. "Our company was founded on innovation by our founder Henry Ford and innovation is part of our DNA," Fields said. "Innovations can be big, they can be small, they can be complicated and they can be simple. So everybody in the organization can help innovation and it is not just the job of engineers, for example."
One innovation for Ford is its in-car SYNC system that allows drivers to control mobile apps with voice commands while driving.
Lawler said it is the first in-car system to connect with Tencent, a popular Chinese software provider, through its popular QQ app, which has 840 million active users.
The number of SYNC users will reach 1 million by the end of the year and a new version will be available in 2016, said Lawler.
Ford is also working on a pilot program called MyEnergi Lifestyle in partnership with Haier, Trina Solar and Delta Electronics. The program will begin with families in Beijing and Shanghai.
It will give families plug-in hybrid electric vehicles, at-home solar power systems and efficient appliances to demonstrate the real world impact of energy-saving products.
The program will track participants' energy use and carbon output to highlight the environmental and economic advantages of vehicle electrification, solar energy generation and utilizing efficient appliances in the home.