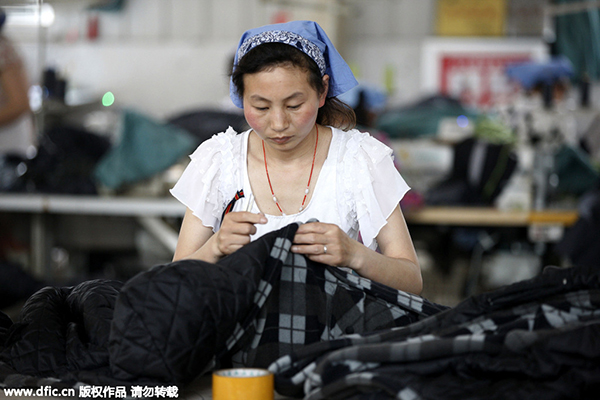 A female Chinese worker sews clothes at a garment factory in Huaibei city, East China's Anhui province, June 1, 2015. [Photo/IC]
The growth rate of China' GDP fell to 6.9 percent in third quarter of this year, which may cause concern, since it is the weakest since 2009 and less than the targeted seven percent for the whole year, but it is not worth worrying about.
The truth is that China is successfully restructuring economy while maintaining a high growth.
Considering the current huge size of its economy, the 6.9 percent is still very high. Though it is lower than the targeted seven percent growth rate, the 0.1 percent difference is very subtle. And, the government has said that seven percent is not really an exact estimation and a difference around 0.5 percent can be regarded as normal.
However, although GDP may be regarded as the king of economic statistics and it neatly sums up production and output into one number, what it includes and excludes, which is more important to decode the reality, is often ignored.
With a close look at the economy, we may find that the slight fluctuation is caused by some temporary impacts while a transition to new mode of growth is keeping undergoing.
We may recall that the third quarter has experienced a sharp decline in the stock market. Its impact on economy is complex, but it surely affects the growth of financial industry and domestic demand.
Another influence comes from the weak external demand, since the world economic recovery is less than expected. The export growth rate declines 4.6 percentage points compared to that in the second quarter.
Despite these negative factors, the pace of economic restructuring does not slow down.
On the one hand, the traditional industries, which depend on government investments and have accumulated excess production capacity, are experiencing a slowdown in the growth rate of both production and investment.
The growth rate in the traditional industries of the resource extraction industry, heavy industry, processing and manufacturing decreased. We find that the crude steel production fell 2.1 percent and cement production fell 4.7 percent for the third quarter.
The fixed asset investment growth rate declines, too. The growth rate from January to September rose only 10.3 percent, down 1.1 percentage points compared with the first half year.
On the other hand, a new and healthier growth pattern is also gathering strength.
The contribution of consumption to GDP growth was 58.4 percent, with an increase of 9.3 percent compared with the same period of last year.