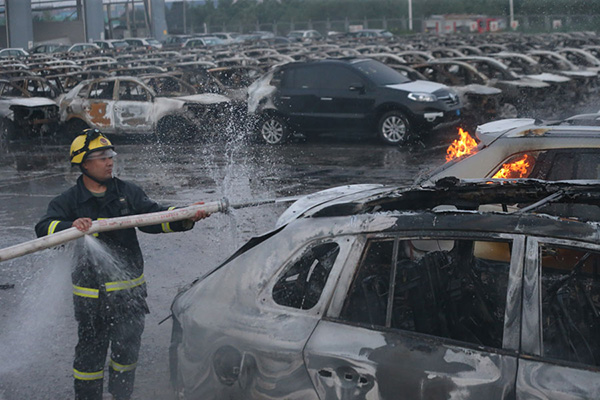 A firefighter uses a water pipe to put out fires on burned cars after the heavy explosions in North China's Tianjin on Aug 13, 2015. [Photo by Hei Ke/ Asianewsphoto]
Almost ten thousand new cars were ruined following powerful blasts in the northern Chinese port city of Tianjin, with Renault and Volkswagen suffering the most, according to caixin.com.
There were over 6,000 Renault cars when the blasts occurred, one sixth of them were destroyed at the moment of the explosions. Meanwhile, Volkswagen claimed that a total of 2,748 cars of different models were burned.
Other cars such as Toyota, Honda and Mitsubishi were also affected, Caixin reports.
Blasts that tore through a warehouse in Tianjin's port area in north China on Wednesday night have killed at least 50 people, 12 of whom were firemen. Another 701 people are still in hospital, many gravely ill.
Emergency personnel are continuing the search for the missing firefighters, but this is already one of the biggest losses of firemen in the line of duty for decades.
Of the hundreds injured, most suffering from burns or broken bones, 71 are in critical conditions.