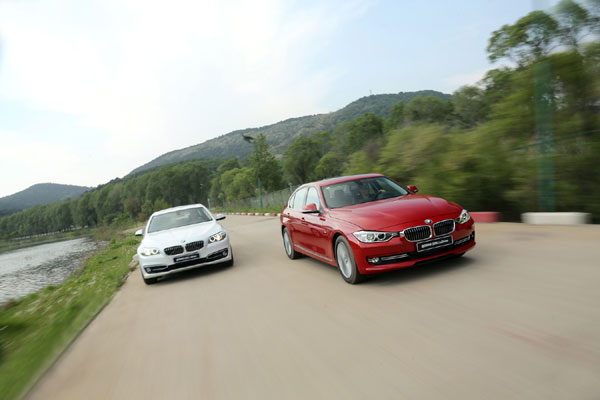 The new BMW 328Li xDrive and new BMW 528Li xDrive. [Photos provided to China Daily]
BMW Brilliance Automotive Ltd rolled out the BMW 328i xDrive, BMW 328Li xDrive and the new BMW 528Li xDrive with six different specifications in Shenyang, Liaoning province, on Thursday.
It is the first time BMW has offered its most intelligent all-wheel-drive technology on locally produced sedans, covering both the 3 and 5 Series. Prices for the cars range from 458,800 yuan ($73,400) to 645,600 yuan.
"The launch of the xDrive models will undoubtedly enhance the competitiveness of our 3 and 5 Series, which are already perceived as the best in their segments worldwide," said Peter van Binsbergen, senior vice-president for sales and marketing at BMW Brilliance.
"Both models are benchmarks with premium quality and driving dynamics. They are also the most environmentally premium cars in their classes and the best-equipped ones, with functions and services including the warmly welcomed BMW ConnectedDrive," he said.
More than 340,000 of the current 5 Series were sold in China since it launched in August 2010, according to the company.
In the first four months of this year, sales of the 3 Series increased 45.7 percent from a year ago to 31,134 units and the 5 Series grew 17.2 percent to 47,198 units.
Last year the German company sold more than 100,000 units of sport activity vehicles - or SAVs - in China. It is clear that market demand for all-wheel-drive vehicles is strong and still increasing.
BMW xDrive was invented in 2003, but the company has been building all-wheel-drive cars for almost 30 years, the first of which was the BMW 325iX that was launched in 1985. BMW now has 92 models equipped with xDrive.
"Whenever it comes to comparisons with other all-wheel-drive systems, the advantages of xDrive are quite clear. It is the perfect combination of all the advantages of the BMW rear-wheel-drive and all-wheel-drive systems," said Ede Weihretter, BMW's xDrive expert.
According to Weihretter, xDrive has a super fast reaction time of 0.1 of a second, as well as a full variable power distribution.
The result is precise driving characteristics, regardless of the road conditions. Combined with BMW xDrive Performance Control enhances agility and dynamics on any surface.
"So driving a BMW is now even more pleasurable as we offer best driving comfort combined with maximum safety under all road conditions with xDrive," said Weihretter.
"From a business point of view we also want to ensure that our BMW Brilliance products keep the competitive edge in each segment. On the other hand, this is our promise to the customers - to enrich choices for them on an on-going basis," added van Binsbergen.