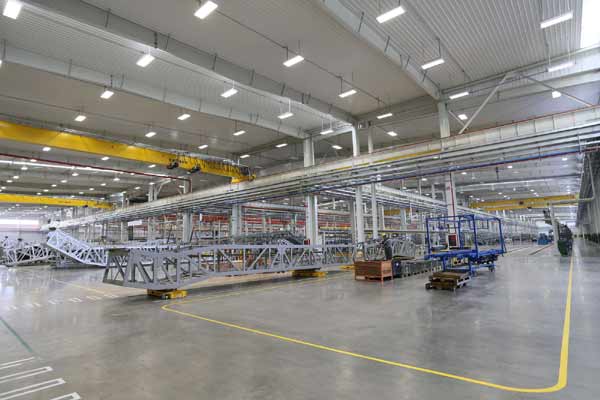 World's largest state-of-art escalator factory
On the morning of May 21st, 2014, the opening ceremony of the Schindler Group's new escalator factory was held in Jiading District, Shanghai. Over 100 honored guests attended the ceremony, among which were Mr. Ma Chunlei, Secretary of Jiading District Committee of the CPC, Ms. Fei Xiaomei, Standing Committee Member and Vice-Governor of Jiading District, Mr. Yu Jianhua, Party Committee Secretary of Jiading Industrial Districtand related leaders from Jiading District and the Administrative Committee of Jiading Industrial District, Mr. Li Shoulin, Chairman of the China Elevator Association, Mr. Mei Shuilin, Vice-Chairman of Shanghai Elevator Association as well as partner representatives from Schindler China. Furthermore, top management members from both the Schindler Group in Switzerland and Schindler China were also present to witness this important milestonein Schindler's history.
During the speeches, Schindler's management and all the honored guests expressed their appreciation and confidence towards the opening of the new factory. Mr. Li Shoulinsaid in his address that Schindler, as the first industrial joint venture that entered China, has made significant contributions to China. This world's largest state-of-art escalator factory has started production, marking anewdawn of contribution to China's elevator and escalator industry.
After thegrandspeeches and the ribbon-cutting ceremony, the guests visited the new Schindler escalator factory with great interest.The factory is of global leading production scale, manufacturing technology and has entered full operation in May, 2014. During his visit, Mr. Wu Yang, President of the Bund International Financial Center (BFC) said, "We choose Schindler because of the company's commitment to excellent quality, advanced technology , creative spirit and high standardsofcustomerservice, which go hand in hand with the concept of the Bund International Financial Center--Shanghai's new landmark. We believe that the setting up of the new factory would even further upgrade Schindler's products and services."
Schindler China's new factory in Jiading covers an area of about 300,000 square meters, including the escalator plant in operation, and the facilities planned and under construction such as the elevator plant, Schindler China headquarters, R&D center with the test tower and the storage base, etc. Upon completion, the new campus will not only promote a new phase of product research and development in China but also improve productivity to meet fast-growing domestic sales and export orders. This will strengthen an already large andimportant manufacturing base for Schindler to export products to international markets.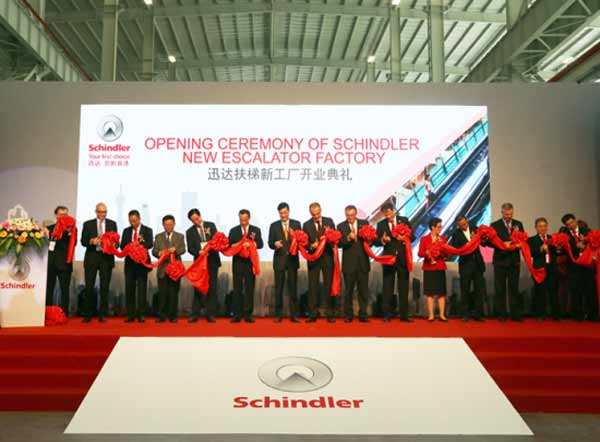 Grand opening and ribbon-cutting ceremony
In order to successfully capturevarious opportunities and deal with the challenges brought by rapid market growth, Schindler has continuously increased its investment and development in Chinain recent years. As an important part of strategic restructuring, Schindler (China) Elevator Co., Ltd merged with Suzhou Schindler Elevator Co., Ltd as a full entityin the end of 2013, thus only existing in the name of Schindler (China) Elevator Co., Ltd.
The year of2014 marks the 140th anniversary of Schindler brand, and also the 34th year forSchindler in China. Schindler has made outstanding contributions to China's urbanization development, especiallyin sectors such as public transport, commercial real estate and high-rise landmarks. Based on a series of actions to integrate its global high quality resources, Schindler looks towards the future by serving customers at home and abroad even better.
About Schindler
Founded in Switzerland in 1874, the Schindler Group is a leading global provider of elevators, escalators and related services. Schindler mobility solutions move one billion people every day all over the world. Behind the company's success are 48,000 employees in over 100 countries.
About Schindler China
Schindler was the first western company to set up an industrial joint venture in 1980. Today, the Schindler family in China consists of two manufacturing facilities and a local R&D center. Schindler designs, manufactures, installs, services and modernizes elevator and escalator systems for almost every building type throughout all major cities in the country.