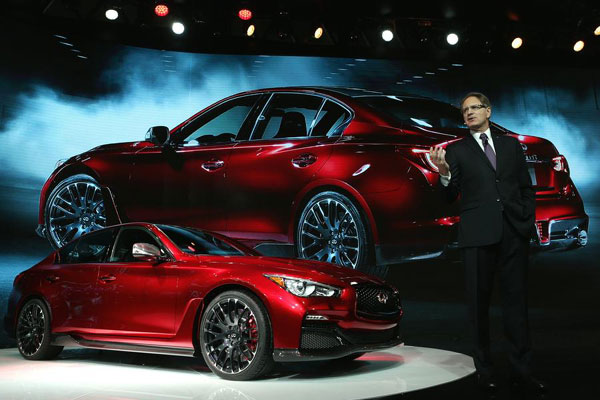 Infiniti President Johan de Nysschen introduces the Q50 Eau Rouge concept car during the 2014 Beijing International Automotive Exhibition in Beijing, April 20, 2014. Over 2,000 exhibitors from 14 countries and regions took part in the event. [Photo/Xinhua]
Foreign automakers are expanding their lineups in China's premium vehicle market segment, hoping to reshape a segment that has been dominated for years by three German luxury car producers with more than 80 percent market share combined.
At the ongoing Beijing International Motor Show, which opens to the public on Monday, luxury automakers presented their aptitude for design and production of high-end vehicles through new brands and strong product offerings.
US auto giant Ford introduced its premium brand Lincoln to the China market right before the exhibition. The company will open eight Lincoln showrooms in seven Chinese cities, starting with Beijing and Shanghai in October. The company also plans to boost the number of stores to 60 in some 50 cities by 2016.
"Though other premium brands are well-established and deep-rooted in the China market, we believe Lincoln can still share a bigger slice," said John Lawler, CEO of Ford China. "The potential is huge. China is likely to replace the United States as the world's largest luxury vehicle market by 2020."
Japanese automaker Nissan highlighted its Infiniti premium line, which will begin local production in Xiangyang, Hubei province, by the end of this year with two models.
Infiniti, the US-born brand of Nissan, has just a little more than 1 percent market share, compared with 8 percent in the US.
However, Daniel Kirchert, managing director of Infiniti China, was quite confident about the future as Infiniti has seen dramatic year-on-year growth of 54 percent in the past year and 114 percent in the first quarter.
"With the kickoff of local production this year, I hope we can become fully integrated into the local market and achieve long-term success here," Kirchert said. "We see China as our second hometown."
General Motors will further push its Cadillac line of premium models, strengthening brand awareness with the new Cadillac CTS at the show.
GM has set targets of 100,000-unit annual sales in 2015 and 10 percent market share in the luxury segment by 2020.
Peter Schwarzenbauer, member of the board of management with BMW AG, told China Daily that although many smaller brands are trying to share the luxury vehicle market in China, the company's sales will continue to increase in the long run.
"Currently, only 17 million households can afford a premium car in China, while the number will almost triple to 49 million in 2025," Schwarzenbauer said.