Editor's note: In 2010, a series of employee suicides cast a dark cloud on China's Foxconn Technology Group and its most well-known partner Apple, Inc. Over the past four years, the company that puts the finishing touches to Apple's popular iPad and iPhone products, has had to reboot its own image.
----------------------------------------------------------------------------------------------------------------------------------------------------------------
Foxconn fact box
Taiwan's technology giant Foxconn, also known as Hon Hai, is the world's largest maker of computer components.
Founded in 1974 by Terry Guo, Foxconn opened its first mainland manufacturing plant in Longhua, Shenzhen, in 1988. Now the company has about 30 factories and one million workers across China.
Longhua factory in Shenzhen has 16,000 workers. The average age of workers at Foxconn is 23 and the sex ratio is six men to four women.
Foxconn's trade volume in 2012 was 174.6 billion yuan ($28.9 billion). Forty percent of Foxconn's overall revenue comes from Apple.
Foxconn saw a 13 percent rise in net profit to $3.5 billion in 2013. 
It's 8 am on a Thursday. Foxconn workers are coming off work after a long night shift, brushing against those preparing to start their day shift. With breakfast in hand and headphones in ears, the young employees rush to work with blank, expressionless faces. The workers walk past the security check point in blue and purple uniforms and punch their cards at its headquarters in Shenzhen.
The security guards are in full riot gear. They walk back and forth along the busy streams of workers. Every vehicle that pulls up to the eight-lane entrance is searched. Even from outside the compound, nets can be spotted on almost every rooftop, a stark reminder of workers committing suicide.
Foxconn Technology Group, the company that manufactures Apple's popular iPads and iPhones, has been under spotlight and trying to revamp its image after a spate of suicides in 2010. The working conditions and low wages have often been criticized by the outside world while the fortress rarely opens its gates to the public. Four years on, is Foxconn really a sweat factory as the world describes it? And who are the faces behind the Apple products that the world just can't get enough of?
In this special series by chinadaily.com.cn, we take readers inside Foxconn for a glimpse behind the closed doors and unfold the closely-wrapped mystery.
This is a first part in a series of stories we will run that will focus on everyday life of Foxconn workers, so please watch this space for more in-depth reports, amazing photographs and wealth of data that capture and reveal the struggles and achievements of men and women who toil day and night so that we can have latest iPads and iPhones.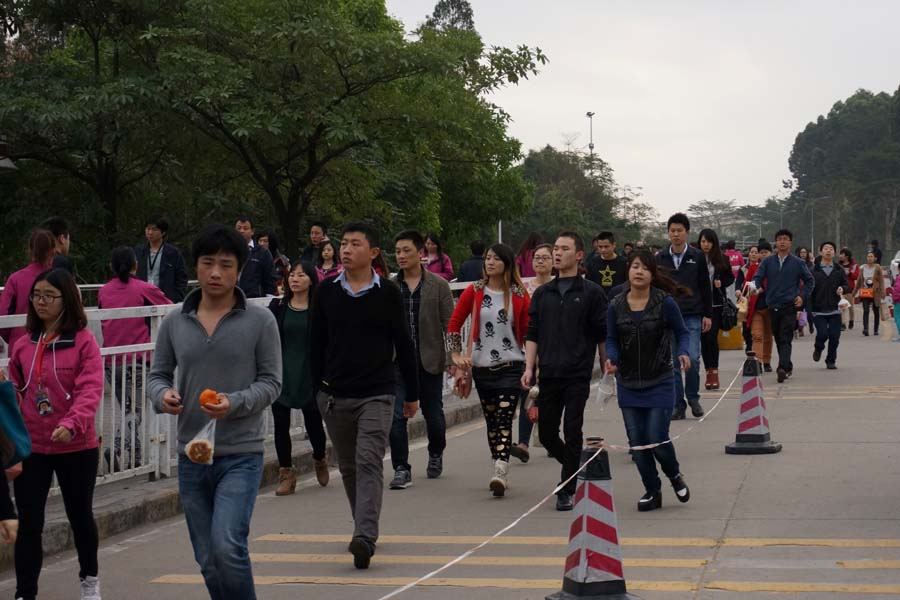 Workers go to work at 8 am at Foxconn's Longhua factory in Shenzhen on March 6, 2014. [Zou Zhongpin/ chinadaily.com.cn]