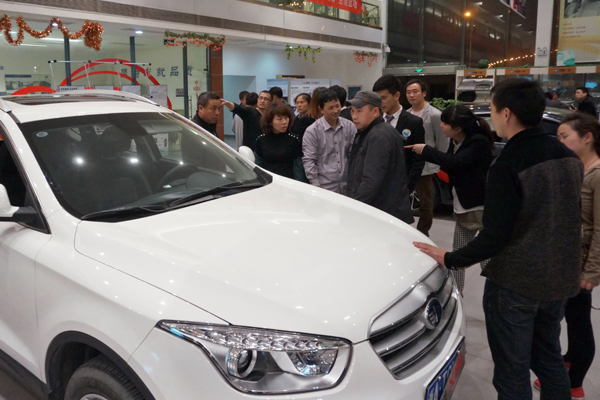 With just a day's notice, consumers rushed to buy a new car before the policy took effect on the morning of March 26, 2014. [Photo/China Daily] 
Dealers decry 'last supper', consumers left unprepared
With just a day's warning, the city government of Hangzhou implemented a vehicle restriction policy last week, leaving automakers, dealers and buyers unprepared.
Lu Lu, who works at the Hangzhou office of the Chinese website Netease, said when she learned from a microblog on Mar 24 that Hangzhou would begin a lottery process for new car license plates only two days later, she didn't take it seriously.
"There was the same rumor last March, but later the government denied it," said Lu. "So I thought this time it was just rumor again and I didn't believe such a policy would be carried out so abruptly."
But when some of her friends in the local media confirmed the news, she realized it was too late to prepare for a purchase because she didn't have enough money on hand.
She said one of her colleagues bought a Honda Civic right after work on Tuesday, Mar 25, the day the policy was formally announced. The regulation took effect immediately in the morning of Mar 26.
"He meant to buy a new Mazda 3 as soon as the model went on sale, but said he could no longer wait because he might not get a license plate, " Lu said.
Another colleague also joined the purchase rush, Lu said. He had to wait two hours in a dealership until he got his turn.
"He said when he just arrived, there was an 8,000 yuan discount, but when his turn came he was told that the discount was no longer available. After he bought the car, the dealer announced a price rise," Lu said.
Buying spree
Many local media outlets reported a buying spree on what they termed "restriction eve". Some dealerships even stayed open around the clock.
Reports said that the government announced the regulation on March 25 and implemented it the next day in an attempt to prevent a sudden surge in new vehicles on the road from a buying binge that might last for several weeks as in other cities that implemented restrictions.
According to China Business News, Hangzhou has the second-highest density of vehicles in the country next to only Beijing.
Hangzhou's regulation is a combination of both Beijing's lottery and Shanghai's auction methods. Eighty percent of license plates will be allocated through a lottery and the rest at auction.
Local authorities said the city will now permit 80,000 new license plates annually.