Japanese luxury carmaker Acura released its all-new 2014 MDX and announced the price on Nov 21 in Guangzhou during the on-going Guangzhou auto show. The 7-seat SUV will be available for sales nationwide from Dec 7.
No longer are the terms "fuel efficiency" and "SUV" on opposite sides of the road. Acura pulled out all the stops to make the MDX as efficient as possible.
The 2014 MDX comes with two editions: Elite edition at 739,000 yuan ($12,127) and Luxury edition at 795,000 yuan.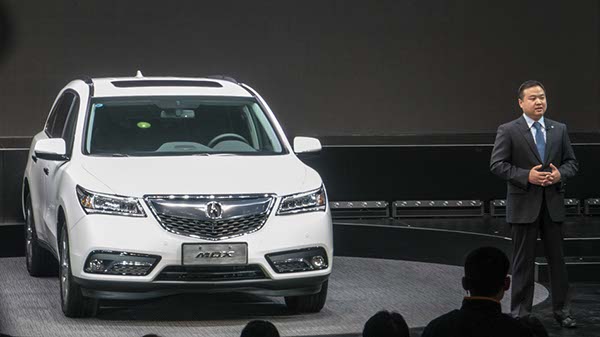 Honda China's Acura business division Deputy General Manager Chen Yue introduces the Acura 2014 MDX SUV on Nov 21, 2013 at the on-going Guangzhou auto show. [Hao Yan/chinadaily.com.cn]
There's a driving mode to match your mood with the 6-speed Sequential SportShift transmission. In automatic mode, you can choose between economical or sporty shifting. Or you can opt for either temporary or full manual control with the paddle shifters.
Set the transmission to "Drive" for smooth gear changes with an emphasis on fuel economy. Select "Sport" for quicker acceleration, as the transmission allows the engine to rev higher before up-shifting.
The Integrated Dynamic System (IDS) enables you to choose the feel of the dynamic responses within your vehicle. With a button located by the shifter, you can change from the "Normal" setting to "Sport" to increase steering feel and quicken throttle response. On Super Handling All-Wheel Drive models, the system more aggressively distributes power to outside wheels in a curve.
The MDX draws both power and efficiency from an all-new 3.5-liter V-6 engine that features Direct Gas Injection, Variable Cylinder Management and the Acura i-VTEC system.
The MDX engine produces 215kW at 6,200 rpm, and 360Nm of torque at 4,500 rpm.
Intelligent Variable Timing and lift Control (i-VTEC) increases horsepower by advancing valve timing relative to engine rpm. High-rpm airflow is enhanced at approximately 4,500 rpm when intake valve openings are extended deeper and for longer duration.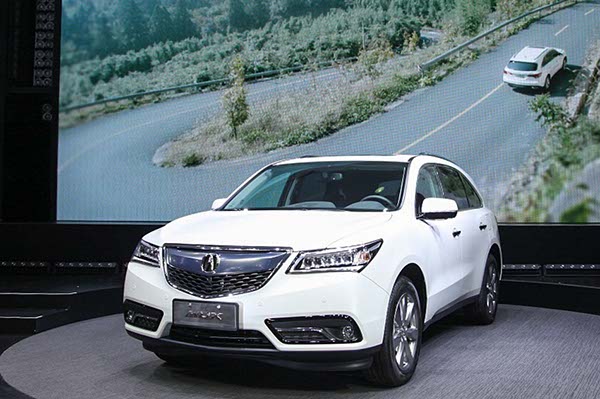 The Acura 2014 MDX SUV is pictured on Nov 21, 2013 at the on-going Guangzhou auto show. [Photo provided to chinadaily.com.cn]