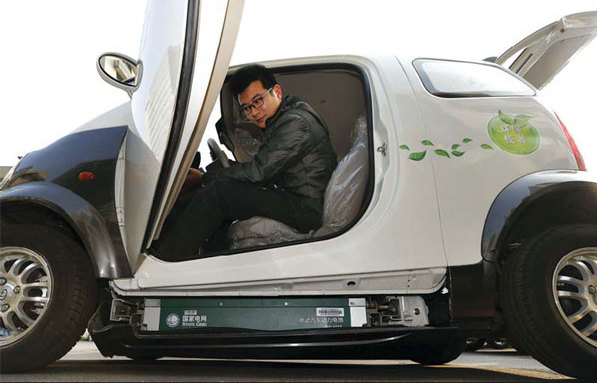 Buyers of alternative-energy cars will be favored by planned preferential policies in China. [Provided to China Daily]
New subsidies for green vehicles are in the works as the Chinese government continues to balance the often-conflicting goals of boosting domestic demand and promoting environmental sustainability.
Domestic media reports cited Miao Wei, head of the Ministry of Industry and Information Technology, who said that the government will subsidize vehicles according to their fuel efficiency level, and the plan is expected to be released in the first half of this year.
Addressing the annual two sessions, the minister said that there will be 16 levels of subsidies based on varying criteria for fuel efficiency, and the minimum will be more than 3,000 yuan, the reports said.
"We shall give sufficient attention to energy-saving vehicles, especially hybrids," Miao said, adding that hybrid car technology has gradually become mature, and these cars are now qualified to be promoted nationwide.
Previous government incentives focused more on electric vehicles than hybrids.
Valid from 2010 to 2012, an incentive for private buyers of alternative-energy vehicles provided them with a maximum subsidy of 50,000 yuan for plug-in hybrids and 60,000 yuan for all-electric vehicles.
But other kinds of energy-saving vehicles - including conventional gasoline-electric hybrids and small vehicles with an engine displacement of 1.6 liters or less - were only eligible for a 3,000 yuan subsidy.
Due to high prices and less government support, sales of hybrid cars have been sluggish in China, though the technology is generally believed to be a more feasible way to save energy and cut emissions compared to electric cars.
An example is the Toyota Prius. It is the most popular hybrid model in both the US and Japan but sells poorly in China.
If the new subsidy is implemented, Japanese carmakers, which have an edge in hybrid technologies, could benefit the most, some analysts said.
Currently Toyota is making the Prius and the hybrid version of the Camry in China.
Though it currently only sells imports of its hybrid models in China, Honda also plans to begin domestic production of the vehicles at its local plants next year.
hantianyang@chinadaily.com.cn