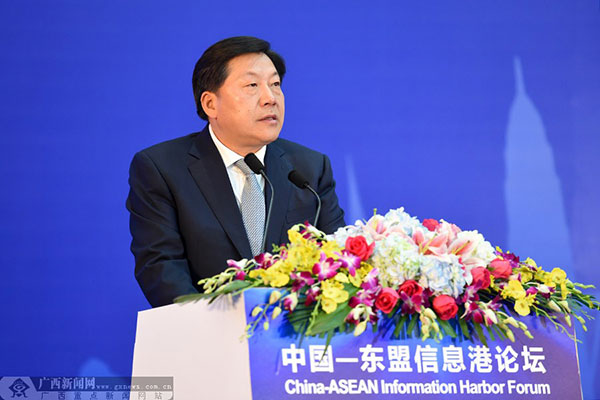 Lu Wei, minister of the Cyberspace Administration of China speaks at the China-ASEAN Information Harbor Forum opening ceremony in Nanning, Guangxi Zhuang autonomous region on Sept 13, 2015. [Photo/Xinhua]
China will set up a special fund for Internet and telecommunications infrastructure to link China and ASEAN members, said Lu Wei, minister of the State Council's Cyberspace Administration of China (CAC).
Lu made the remarks on Sunday during the China-ASEAN Information Harbor Forum in Nanning, capital city of south China's Guangxi Zhuang Autonomous Region, to discuss building IT infrastructure to connect China and Southeast Asia.
Lu said the fund will boost the technology levels in the region and promote the 21st Century Maritime Silk Road.
According to China's plan, a base for the China-ASEAN Information Harbor will be established in Nanning, consisting of 34 projects worth 20.9 billion yuan (3.3 billion US dollars).
There is still a huge digital gap between developing Asia and the Western world. A total of 700 million Chinese and 400 million people in Southeast Asia today have no access to the Internet, Lu Wei said.
Accelerated infrastructure construction will bring about closer and more efficient cooperation for sharing information on finance, education, scientific research, health care and disaster prevention and relief, he said.
Cooperation cannot exist without sharing information, Lu said. The fund will play a vital role in breaking information barriers and closing the knowledge gap.
The two-day forum seeks to strengthen cooperation between governments, companies, and scholars in the fields of e-commerce, Internet security and cultural industries.
The event is jointly hosted by the CAC, National Development and Reform Commission of China and the government of Guangxi as part of the annual China-ASEAN Expo.