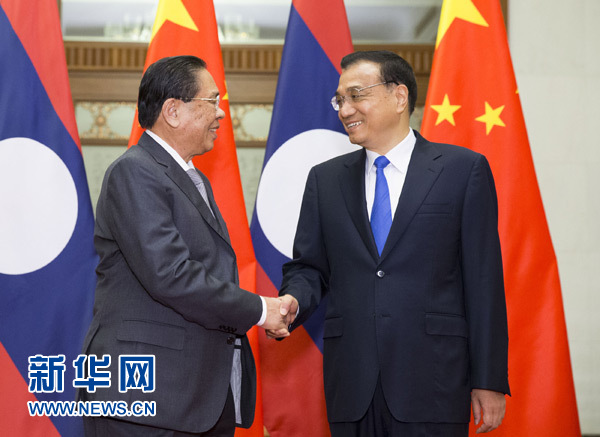 Chinese Premier Li Keqiang met with Lao President Choummaly Sayasone in Beijing on Tuesday. [Photo/Xinhua]
BEIJING - Chinese Premier Li Keqiang met with Lao President Choummaly Sayasone in Beijing on Tuesday, pledging to advance ties with the Southeast Asian country.
Choummaly, also the general secretary of the Central Committee of the Lao People's Revolutionary Party (LPRP), is in Beijing to attend activities to commemorate the 70th anniversary of the victory in the Chinese People's War of Resistance Against Japanese Aggression and the World Anti-Fascist War.
China has planned a series of events in the run-up to the 70th anniversary of the end of WWII, culminating in a military parade on Sept. 3 in Beijing.
Speaking highly of the China-Laos friendship, Li said the two countries share a similar development path and extensive common interests.
China is willing to push forward infrastructure construction of railways and highways connecting the two countries, cooperate with Laos in areas including energy, mining and agriculture and promote the prosperity and stability of border areas, Li said.
Laos will take the rotating presidency of ASEAN in 2016, which marks the 25th anniversary of dialogue relations between China and ASEAN.
Calling ASEAN the priority of China's diplomacy with neighboring countries, Li said China would like to enhance coordination and communication with Laos and the other ASEAN members to increase common interests and deepen regional cooperation in order to improve China-ASEAN ties and jointly safeguard the peace, stability and prosperity of East Asia.
Choummaly hailed the sound development of the all-round strategic partnership between Laos and China, adding that Laos is willing to accelerate cooperation with China on major projects, including the Laos-China railway, and find more possibilities for cooperation.
He said Laos appreciates China's support for ASEAN and would like to continue to contribute to ASEAN-China relations.
Also on Tuesday, Choummaly met with Liu Yunshan, a member of the Standing Committee of the Political Bureau of the Central Committee of the Communist Party of China. He held talks with Chinese President Xi Jinping on Monday.