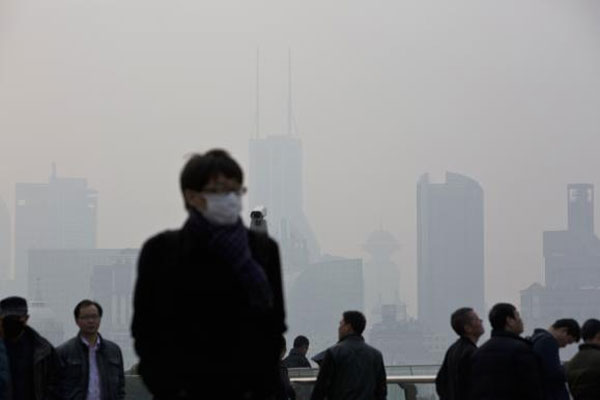 A man wearing a face mask walks through the Lujiazui financial district of Pudong on a hazy day in Shanghai, March 10, 2014. [Photo/Agencies]
Chinese citizens are feverishly snapping up face masks as worsening air pollution fuels a multi-million dollar industry where many products fail to provide even basic protection, drawing calls for better oversight and standards.
Authorities have invested billions in various projects to fight pollution, but none so far has solved the problems caused by cars, coal-burning power plants and outdated factories that spew millions of tons of toxins into the air.
It is estimated that air pollution in particular causes an estimated 350,000 to 500,000 premature deaths in China every year, according to an article in the medical journal "The Lancet" co-authored by China's former health
mini
ster, Chen Zhu.
Face masks have become the norm for many city residents, although only nine out of 37 types tested recently by the China Consumers Association met required standards in terms of filtering particulate matter and enabling easy breathing.
The most expensive, priced at 199 yuan ($32.15), was no better than one of the cheapest, a disposable mask that costs 1 yuan, the association said in a report on the tests.
"The vast majority of face masks on the market give no protection against PM2.5, even if the manufacturers claim they do," said Lei Limin, vice chairman of the China Textile Commerce Association, referring to the small particulates that pose the greatest risk to human health because they easily pass into the lungs.
Lei said his group is pushing for a national standard for anti-smog face masks, echoing calls last week by the China Consumers Association.
Face masks in China have traditionally been categorized as personal protective equipment mainly used for medical or industrial purposes. The country has no quality standards for face masks for personal use, despite the surge in demand.
Last year, consumers on the country's biggest online e-commerce site, Taobao, spent 870 million yuan ($140 million) on anti-smog goods like face masks and air purifiers.
Taobao, owned by Alibaba Group Holding Ltd, saw a 181 percent increase in the number of people who bought face masks compared with the previous year.
"People are looking for anything that can really help them, that can help reduce any kind of health risk as a result of the pollution," said James Roy, an associate principal at Shanghai-based China Market Research Group.
Face mask village
Local media has recently questioned the effectiveness of some masks, with state broadcaster China Central Television (CCTV) targeting Dadian, a village in the eastern province of Shandong, where 300 workshops supply 80 percent of the country's ordinary face masks.
Dadian saw face mask output value more than triple from 350 million yuan in 2007 to 1.1 billion yuan in 2012, when the village produced 900 million masks.
The CCTV report said some workshops in Dadian had been producing cotton masks with filters in them. The masks were then sold to some companies that claimed they protected people against the effects of pollution. A workshop owner quoted in the report said, however, that the filters might not work.
The masks were not effective against PM2.5 particles, the CCTV report said.
Jiang Xiubin, who owns the BinHai Face Mask factory and who is head of the Dadian face mask association, said the village only produces ordinary face masks, not anti-smog ones.
Asked if the producers would consider upgrading their masks to address people's concerns about air pollution, Jiang said that was not yet part of the plan.