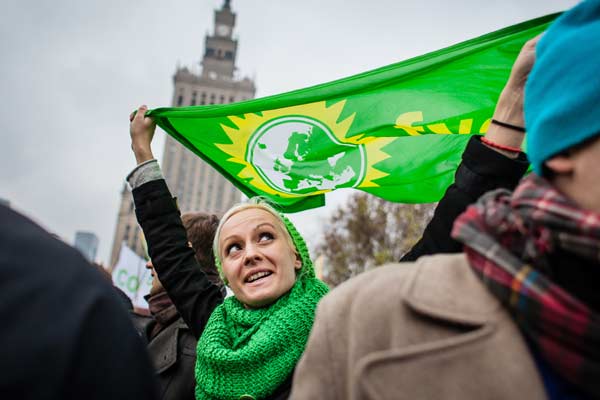 Activists march to demand more climate-saving efforts during the UN Climate Change conference on Saturday in Warsaw. [Photo/Agencies]
Negotiation is about compromise and the art of being convincing.
At the labyrinthine National Stadium of Poland in Warsaw, where the annual UN climate change negotiations have been taking place since Nov 11, more than 190 countries have been showcasing their plans to protect our polluted and warming planet.
The introductory remarks by Christiana Figueres, executive secretary of the UN Framework Convention on Climate Change, which hosts the annual event, caught my attention and stayed in my memory. Though the talks are held in a stadium, she said, what happens is not a game.
Her warning went further, that there are no winners and losers. We will all either win or lose in the future we make for ourselves, she said.
After nearly 10 days of the marathon talks, it seems that no big breakthroughs have been made. There has been little progress in realizing promises by developed economies' to help poor countries with finance and technology, or in creating a roadmap for the world's climate efforts after 2020.
I covered the Copenhagen climate conference in 2009, which was historic partly in terms of the shock China felt at biased reports from Western media. I skipped subsequent annual events and then picked up the story again in Warsaw last week.
Despite the break, I was able to catch up with the agenda very easily because the topics are nearly the same as before: finance, technology, responsibility-sharing, agreeing on a roadmap and timetable.
Another thing is also the same: Developed economies are still reluctant to shoulder more responsibility and even though they could aim at a higher target of emissions cuts, they will only do so on condition other parties do more as well.
So Figueres should have felt very disappointed when some developed countries announced at the talks that they were going to backtrack from previous commitments.
But what really surprised me is the changing context of China's participation in the negotiations and the fresh mindset of its delegation at the talks.
Of course, China's pavilion in the stadium is busier than others, mainly because of its growing clout on every front. The pavilion's organizers have filled the meeting room with various seminars and interviews in order to communicate China's positions.