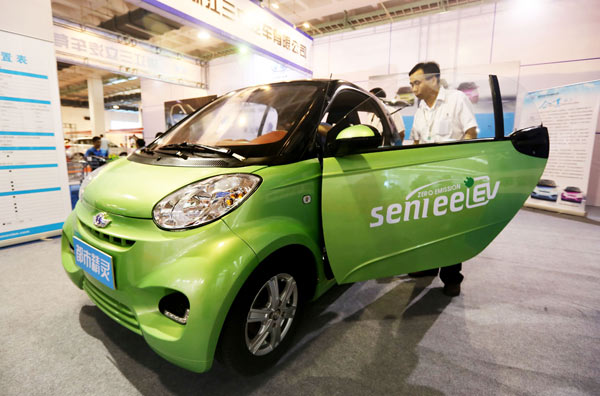 A man checks out an electric mobile at a new energy auto show in Beijing in July. The capital plans to tackle air pollution by promoting the use of green vehicles and cutting annual gasoline and diesel fuel consumption.[Photo/Xinhua]
Beijing will actively promote the use of new energy and clean-energy vehicles to tackle air pollution.
According to the capital's five-year Clear Air Action Plan unveiled in September, authorities aim to cut annual gasoline and diesel fuel consumption in 2017 by 5 percent of 2012 levels.
At the end of 2017, the number of new energy and clean-energy vehicles will reach 200,000, the Beijing government said.
The city has 5.35 million registered vehicles and, according to the Beijing environmental protection bureau, these account for 22.2 percent of PM2.5.
It said 58 percent of nitrogen oxide and 40 percent of volatile organic compounds come from vehicle emissions.
To better implement the policy, the government should first choose new energy vehicles for public transportation, according to the capital's 2013-2017 plan.
Starting this year, authorities will work out a plan to encourage more people to buy and use new energy vehicles. The plan will be implemented in 2014.
In the municipal infrastructure area, more new energy vehicles and clean-energy vehicles will be developed as buses, taxis, postal vehicles, and sanitation trucks, according to the plan.
At the end of 2017, the proportion of new energy vehicles and clean-energy vehicles will reach 65 percent of the total number of buses in Beijing.
This could see gasoline and diesel fuel consumption reduced by 40 percent on 2012 levels among buses.
Support facilities
Power supplies and support facilities must be upgraded for green vehicles.
Commuters are still concerned about safety and repair issues, and called for more support policies.
The government vows to solve the problem in the five-year plan and asked a working office to plan for gas charging stations and battery charging stations this year.
Construction of these support facilities will start in 2014.
Tongzhou district took the first step. Two hundred electric vehicles used as taxis have gone into operation recently.
The district government had set up 100 exclusive parking lots for the e-taxis, Beijing Morning Post reported.
The operation time for e-vehicles is from 6:30 am to 11 pm every day. The starting price will be 10 yuan for the first 3 kilometers and 2 yuan for each additional kilometer, the report said.
In morning and evening rush hours, at least 150 e-taxis will be on the road in Tongzhou, according to the report.
However, cabbies are only allowed to work in Tongzhou and cannot enter other districts in Beijing.
New license rules
Meanwhile, Beijing will beef up its license plate lottery, the city transport commission said.
The number of license plates issued could be halved from Jan 1, as the capital aims to limit the amount of vehicles to 6 million by the end of 2017.
Specific measures are still under discussion, although it is certain that potential buyers required to participate in the license plate lottery will have less of a chance to obtain new purchase permits, authorities said.
To reach the 6 million goal by 2017, vehicle numbers have to hit 5.44 million by the end of this year, with some 18,500 additional vehicles a month, the commission said.
Statistics show the average monthly growth of Beijing's vehicles exceeded 20,000 a month from 2005 to 2010, while 2011 and 2012, when the capital started implementing the license plate lottery, saw an annual growth of 14,600 in 2011 and 18,000 in 2012.
In July the number of additional new vehicles was 22,000.
According to the action plan, the city has to keep the amount of new vehicles to within 560,000 a year from 2014 to 2017, limiting the annual monthly growth to about 11,700, including coaches and freight trucks.
The current quota for new vehicles is 20,000, the commission said.
Since the license plate lottery started in 2011, more than 1.55 million potential buyers have participated in the lottery.
Only one out of 84 has the chance to get a new purchase permit, according to the commission. Many have won plates but not yet used them.
Some experts suggested introducing financial penalties against those wasting vehicle quotas.
Mao Baohua, director of Beijing Jiaotong University's comprehensive transportation research center, said a guarantee deposit to enter the lottery should be forfeited if the option is not exercised.
"It's necessary to guarantee the rights of those who really need a car for getting around," Mao said.
Chen Yanyan, a professor at Beijing University of Technology's Transportation Research Center, suggested residents participate in the lottery as a family unit.
It is necessary to study the number of vehicles in each family, she said.
Ou Guoli, a professor at the School of Economics and Management of Beijing Jiaotong University, suggested an increase of new energy vehicles, which are not restricted by the license plate lottery.
The only thing the government needs to tackle is the support facilities of the new energy vehicles, including the charging and maintenance stations, Ou said.
Contact writers at jinhaixing@chinadaily.com.cn and zhengxin@chinadaily.com.cn