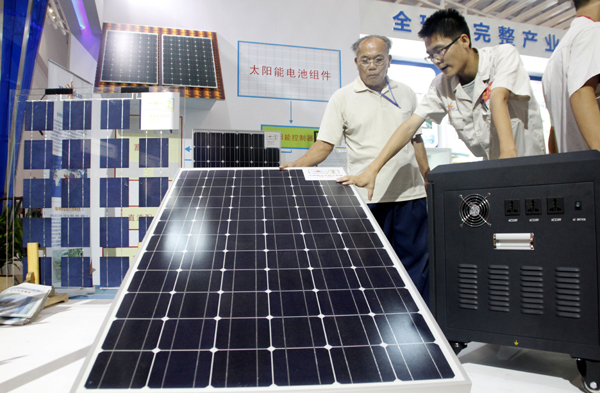 Solar panels on display at an expo in Haikou, Hainan province. A Ministry of Commerce official said the European Commission has been using the solar panel case as a bargaining chip to seek compromise from China in specific sectors, such as telecoms. [Photo/China Daily] 
Major Chinese solar panel makers on Thursday protested over punitive tariffs the European Union plans to levy on Chinese-made photovoltaic (PV) products.
Protests at more than 40 solar companies broke out as EU member states begin voting on proposed anti-dumping duties ranging from 37 percent to 68 percent Friday. The provisional rates will be effective from June 6 if the proposal is passed.
Representatives of three solar panel giants, Yingli Green Energy Holdings Co, Trina Solar Ltd and Canadian Solar Inc, held a press conference Thursday in Beijing, lashing out at the EU penalties and calling for free trade.
In a joint statement, the three said any market restrictive measures would hurt China's solar industry, but would also hinder solar application and development in Europe and have a major negative impact on the EU's economy and employment.
According to a research report by German consulting firm Prognos, the punitive duties could lead to job losses of more than 200,000 in Europe over three years.
Some 1,000 workers gathered at a Yingli factory compound in the city of Baoding in northern China's Hebei Province, holding signs of "No Trade Protection." Workers from other solar firms protested across the country.
Highly recommended
Solar negotiations with EC fail
EU solar duties against China 'mistake': German Vice-Chancellor says
EU companies against anti-dumping duties on Chinese solar panels
Wuxi Suntech's debts reach $2.88 billion
Special Coverage
All you want is here