Air pollution 'more frightening than SARS virus'
By Li Wenfang in Guangzhou (China Daily)
2013-02-01 07:37
| | |
| --- | --- |
| | |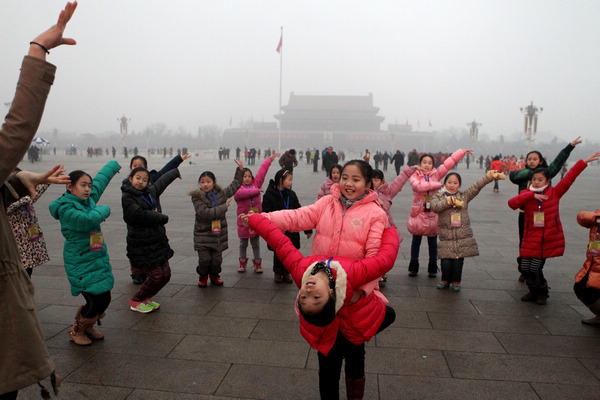 Children from a primary school in Xuzhou, Jiangsu province, dance at smoggy Tian'anmen Square in Beijing on Thursday. [Zhu Xingxin / China Daily]
Air pollution is more frightening than SARS because no one can escape it, said Zhong Nanshan, a leading Chinese specialist in respiratory diseases, during a TV interview aired on Wednesday.
An academic at the Chinese Academy of Engineering, the outspoken Zhong is also known for exposing the SARS (severe acute respiratory syndrome) cover-up in 2003. The six-month SARS epidemic in 2003 killed 775 people in 25 countries.
Amid air pollution, people are left with limited choices in selecting their lifestyles, Zhong said.
"It is more frightening than SARS. For SARS, you can consider quarantine and other means. But no one can escape from the air pollution and indoor pollution."
Air pollution is an important factor in both the incidence and causes of respiratory diseases, Zhong said.
When the concentration of PM2.5 increases by 10 micrograms per cubic meter, hospitalization may increase by up to 3.1 percent, he said, citing research done with a co-worker in Hong Kong.
When the concentration of PM2.5 rises from 25 micrograms per cubic meter to 200, the average daily fatality rate may rise up to 11 percent.
PM2.5 refers to particulate matter smaller than 2.5 microns in diameter, which can penetrate the lungs and are more harmful than larger particles.
Pollution harms not only the respiratory system but also the cardiovascular, cerebral vascular and nerve systems.
"Cases of lung cancer have increased by 60 percent in Beijing in the past decade. This is a very shocking figure. Air pollution is a significant cause," Zhong said.
"I think apart from the pharyngitis, nasitis and some eye diseases that affect some people, in the longer term the human body can come to great harm."
Zhong said people working outdoors should wear masks in serious air pollution and traffic police should be allowed to wear masks in these circumstances, which can be included in protective regulations.
Air pollution is a grave issue for people working outdoors, especially in large Chinese cities, Zhong said.
Up to 40 percent of traffic police were found to have nasitis and 23 percent have pharyngitis, 33 percent to over 50 percent higher than the ratios for the general population, according to statistics, he said.
On smoggy days, patient numbers, especially patients suffering respiratory diseases, increase markedly, said Zeng Mian, director of the medical intensive care unit of No 1 Hospital Affiliated to Sun Yat-sen University in Guangzhou and a specialist in respiratory diseases.
Zeng has seen cases of co-workers having their own respiratory conditions improve when traveling in foreign countries, such as the United States, Australia and South Korea, but worsening back in Guangzhou.
The worst smog in decades has hit many parts of China this year.
Smog covered 1.43 million square kilometers on Tuesday, including Beijing and Tianjin municipalities, and the provinces of Hebei, Henan, Shandong, Jiangsu, Anhui, Hubei and Hunan, according to the Ministry of Environmental Protection.
As of 10 am Wednesday, PM 2.5 was still the main pollutant in Beijing, with an average reading of 310 micrograms per cubic meter over the past 24 hours.
The Chinese Academy of Sciences estimated that the recent smog across China has affected more than 800 million people, China Central Television reported on Thursday.
"Great efforts are needed, in every possible way, to improve the basic living environment of human beings," Zhong said.
liwenfang@chinadaily.com.cn

The HOPE OF BREEZE is a light driven by the wind energy, with the shape of a traditional Japanese windbell.

XDModo Solar Sunflower collects sun's energy through the solar panel to charge mobile phones.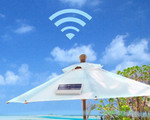 CoverFi is a portable wireless router that resolves issues like low battery levels and charging inconveniences.

The 2012 Smart City Expo World Congress opens on Nov 13 in Barcelona, Spain. It will end on Nov 15.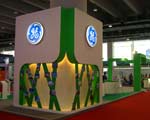 The China International Green Innovative Products & Technologies Show 2012 opend in Guangzhou.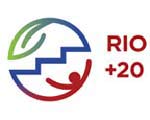 Chinese private firms will join the China Going Green Dialogues, part of the Rio+20 in Brazil.