Working together to arrest this silent killer: air pollution
Updated: 2013-01-15 05:49
By Victor Fung Keung(HK Edition)
| | | | | | | | | |
| --- | --- | --- | --- | --- | --- | --- | --- | --- |
|   | | Print | | Mail | | Large Medium  Small | 分享按钮 | 0 |
On Jan 11, 2013, Professor Anthony Hedley of the University of Hong Kong told Legislative Council sub-committee members that air pollution in Hong Kong killed 3,000 people in 2012. I sympathize with the family members and the loved ones of the deceased but at the same time I become angry and sad. I can't stop thinking: why so little has been done to "arrest" this silent killer- "air pollution"?
Professor Hedley, a world-renowned expert on air pollution, also detailed the economic loss due to dirty air: HK$39 billion in 2012, presumably arising from medical and hospital-bed costs related to respiratory illnesses. It is a shame that on the one hand we pride ourselves as Asia's World City, but on the other hand fail to protect people's lives.
To cut air pollution in Hong Kong, it starts with me. I don't just talk the talk, but I indeed walk the walk. Last week I showed my support to my employer Hong Kong Baptist University's appeal for staff and students to "embrace a low-carbon lifestyle" by selling my 3,000CC-car. I help cut down the air pollution level by switching to riding a bicycle to work. My university colleagues went a long way to finding me a "parking space" for my bicycle. Baptist University is Hong Kong's first public university to adopt a "green campus" policy and has received an award for its efforts. I have no regrets about dumping my limousine.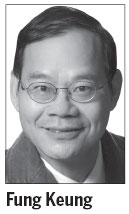 One pollutant, nitrogen dioxide, recorded a 122 micrograms per cubic meter of air in Kowloon's Mong Kok area, according to the government's Environmental Protection Department. The 122 index is way above the 40 micrograms set by the World Health Organization. The nitrogen dioxide level is 24 percent higher than that of 2005.
The call by a green group, the Clean Air Network, is worth supporting. The group has urged the government to take bold and immediate actions to improve air quality, including implementing laws to send old diesel trucks to the scrapyard and make all sea vessels switch to cleaner fuel.
Chief Executive Leung Chun-ying will deliver his maiden policy speech on Jan 16. I am sure he will reveal a lot of good news to garner public support in light of his flickering popular approval, including more public housing, more land supply, and more public money for the elderly and the poor. A government official hinted that Mr Leung will also announce subsidies for the replacement of old trucks and buses. I hope Mr Leung will introduce more concrete policies and measures to reduce air pollution in the city.
I hope some other middle-class car owners will give up driving and take public transport (or ride a bike or walk) to work, like me. The government is well-advised to offer incentives to car-owners such as subsidies for replacing cars older than five years or cash awards for giving up driving entirely. I am not optimistic that vessels will be asked to use cleaner fuel, since ship owners are drawn from the rich and famous.
The "untouchables" in Hong Kong, needless to say, are the rich and famous. Many go to work or shopping in chauffer-driven expensive cars that consume an excessive amount of fuel. Many of these cars can be seen in Hong Kong's Central District. I know it is unrealistic to ask rich people not to show off with their chauffer-driven limousines. But at least we can appeal to them to use cars that consume less fuel to protect our environment and cause less pollution.
Christine Loh Kung-wai, Under-secretary for the Environment, said the government has asked two local universities to submit long-term solutions for public health and air pollution. Doing research is better than doing nothing, but it won't solve Hong Kong's deteriorating air pollution problem in the short run. We need immediate action. A pollution index three times the WHO recommendation (i.e. 122 vs 40) is unacceptable.
The author is coordinator of the B.S.Sc in financial journalism program at Hong Kong Baptist University.
(HK Edition 01/15/2013 page3)