China's targets for slashing greenhouse gas emissions and reducing energy consumption are within reach this year, a leading official told a UN climate conference in Qatar.
The official also called on developed economies to honor funding pledges made to fight global warming.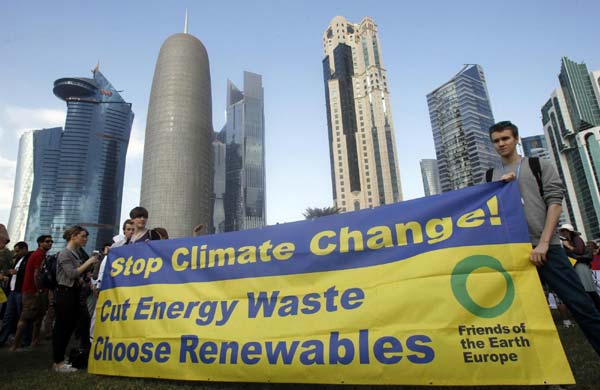 Activists stand with a banner before a march to demand action to address climate change in Doha Dec 1, 2012. [Photo/Agencies]
Carbon intensity, the amount of carbon emitted for each unit of GDP, is likely to drop by 5 percent in 2012, Xie Zhenhua, the country's top climate change official, said during UN climate change talks in Doha, the Qatari capital, on Monday.
There was also a marked fall in energy intensity — energy consumption for each unit of GDP — which dropped 3.4 percent from January to September this year, Xie said.
With less than one month left in 2012, both figures indicate that China is likely to fulfill its goal, after failing to do so last year.
From 2011 to 2015 the country plans to cut its energy intensity by 16 percent and carbon intensity by 17 percent from 2010 levels.
Emissions from the manufacturing sector are declining due to weak external and internal demand. GDP growth dropped to 7.7 percent from a year earlier in the first three quarters, from 9.3 percent in 2011.
However, action and policies on economic rebalancing and promoting energy efficiency have also taken effect.
The last two years have seen more than 8 million kilowatts of small coal-fired power generating capacity slashed, Xie said.
On top of this, the capacity to produce 31.9 million metric tons of iron, 28.5 million tons of steel and 155 million tons of cement, have also been slashed.
Christiana Figueres, executive secretary of the United Nations Framework Convention on Climate Change, said that China has developed a good foundation for government polices and public support to address climate change.
Figueres was speaking at the China Pavilion in the Qatar National Convention Center.
The government has identified environmental, sustainable development as a priority and the public is aware of climate change issues, she said.
About 97 percent of Chinese people think climate change is happening, she said quoting a recent survey conducted by the Center for China Climate Change Communication.
She also called on China to further rebalance its economy and play a leading role in realizing a "clean energy revolution", turning its high-reliance on fossil fuels to clean energy.
If China continues, but also strengthens, the clean energy path it is already on and leverages pioneering technology from new energy systems, China will achieve an extraordinary success, she said.
Little progress has been made during the first week of the latest round of talks about global climate change in Doha.
The Doha conference must be an "implementation" conference, Figueres said.
Works relating to both the second commitment period of the Kyoto Protocol, as well as issues such as adaptation, mitigation, finance and technology transfer need to be accelerated, she said. The Kyoto Protocol expires at the end of this month.
"The window to reaching 2 C target is very quickly closing for us. We do have the funding and the technology to close the gap. It's a matter of scale; it's a matter of speed; it's a matter of finance, and above all, it's a matter of determination," Figueres said.
The target is an attempt to keep the average rise in global temperatures this century below 2 C.
At the 2009 Copenhagen talks, developed economies made a commitment to raise $100 billion per year by 2020 to help developing countries cope with climate change.
"The Doha meeting must make a clear 2013 to 2020 plan for providing the fund needed by the developing economies," Xie said. "Real money should be given to the developing economies starting from 2013."
Wu Wencong contributed to this story.
Contact the writer at lanlan@chinadaily.com.cn
Full Coverage:
Climate Change Conference in Doha

Related Reading:
Doha talks move forward at glacier's pace

Doha is going the Durban way

Focus of Doha climate talks

Doha talks urge more emission cuts by developed world

Call for action at climate talks in Doha
Comment: