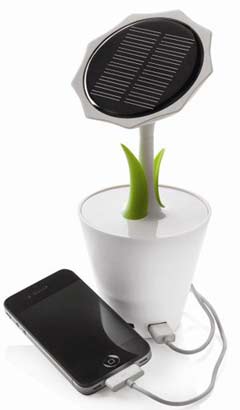 Most of us are unaware of how much electricity we consume everyday for our routine activities and nothing would be better than trapping solar energy for accomplishing these activities.
XDModo Solar Sunflower is a solar charger that collects sun's energy through the solar panel and uses it to generate energy to charge your mobile phones.
The charger is designed in form of a flower pot with 2500mAh rechargeable lithium battery that gives output of 5V/max. Two green leafs fixed at the base of the stem give feel of a real plant grown in a flower pot.
The most vital part of this plant-like charger is the face of the flower that has a large circular solar panel on the top to absorb solar energy.
The device features mini USB input and USB output on the sides of the pot. There are two indicator lights to signify the status of charging and the charger is just right to juice up your mobile phone or mp3 player. A mini USB charging cable that comes with the charger forms a part of the solar charging set.
The product is a creation of XDModo, a brand known for creating original and practical products. It's a compact device with the height of 23cm and pot diameter of 10 cm. The entire crafting has been done using durable plastic in white color.
Source: designbuzz.com