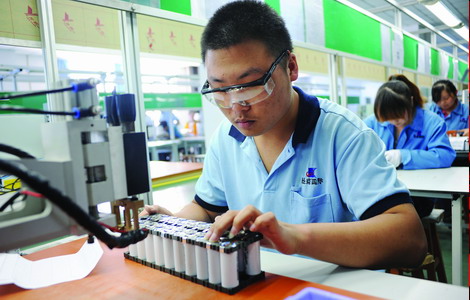 A worker assembles lithium ion batteries in Tianjin. The average annual growth rate of lithium carbonate use in China is about 25 percent, mainly driven by mobile phones and other electronic devices. [Photo / Bloomberg]
The Australian lithium start-up Galaxy Resources Ltd plans to invest in the production of batteries for electric bicycles in the Chinese market, a sign that foreign companies see opportunity in the mainland's growing industry of new energy vehicles.
The company invested $A100 million ($105.6 million) to build a lithium carbonate plant, which started production on Wednesday in Zhangjiagang, Jiangsu province. The new plant has an annual production capacity of 17,000 tons of lithium carbonate, the largest in the Asia-Pacific region so far.
Galaxy already has 34,000 tons of spodumene, a source of lithium, stockpiled at the Jiangsu Lithium Carbonate Plant and another 20,000 tons at a nearby port.
Lithium carbonate is used in lithium-ion batteries, which in turn go into mobile phones, computers and electric vehicles.
"The growing number of electric bicycles in China will create huge demand for lithium batteries," said Iggy Tan, managing director of Galaxy Resources.
He said that 20 million to 30 million electric bicycles are sold in the nation annually, and more than 90 percent of them use lead-acid cells. Only 3 percent use lithium batteries, which demonstrates the huge potential for growth.
The average annual growth rate of lithium carbonate use in China is about 25 percent, mainly driven by mobile phones and other electronic devices.
However, a single electric car's battery capacity is equal to the capacity of 1,000 iPad batteries, which shows that the growing use of alternative-fuel vehicles will greatly boost the demand for lithium batteries.
Tan said even though the electric vehicle market is still five to 10 years from maturity, the demand and opportunities are real. Thus, the company's next plan is to open a lithium battery factory in China.
"Compared with electric cars, I think producing batteries for electric bicycles is a better choice to start up in the lithium battery market," Tan said. "It is easier to reach the end consumers."
The company will invest $140 million to open a lithium battery factory soon, though the exact timing depends on the output by the lithium carbonate factory.
"For us, the lithium battery business for electric cars is still in the future, because the technology is not mature enough in the Chinese market," he said.
The company aims to make 620,000 battery packs annually.
Galaxy owns the world's second-largest hard rock lithium mine by production, Mt Cattlin, which holds 18 million tons in reserves.
As for the choice of Zhangjiagang to build the factory, Tan said costs are lower in the area because the factory is close to key suppliers of reagents (used in tests of chemical reactions) including sulphuric acid, soda ash and caustic soda.
Also, the local government has provided support to the company and four local banks have offered financing.
The company had planned to list in Hong Kong in March 2011 but suspended the process because of high costs and economic uncertainty caused by the Japan earthquake.
Anthony Tse, executive director of the company, said that it didn't have any near-term plans to attempt another listing, at least not this year.
Lithium prices and demand have been increasing, but the Chinese market faces a glut, said Xu Hongli, analyst at Platts, a global provider of energy, petrochemical and metal data.
She said that many domestic lithium carbonate producers are considering expansion because of the encouraging policies for the electronic-vehicle sector during the 12th Five-Year-Plan (2011-15).
dujuan@chinadaily.com.cn