'Cardigan capital' warms up to online sales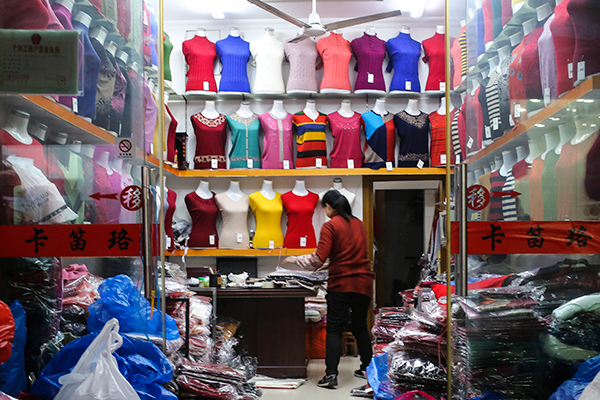 Puyuan in East China is a hub of cardigans. [Photo provided to China Daily]
China's largest cardigan-production base seeks to upgrade manufacturing and consolidate market share.
In October, Puyuan town in Tongxiang city, Zhejiang province, was listed as one of 127 among the country's first batch of "specialized" small towns.
Local authorities say Puyuan is unique as the country's largest manufacturing base for woolen cardigans. It enjoys 70 percent of the domestic market share.
Puyuan's profile has continued to rise since it produced its first cardigan in 1976. But it has increasingly faced challenges with the internet weakening its geographical advantage while competition increases nationwide.
"When a local textile mill struggled, the owners decided to find a solution," said Qian Weiguo, the deputy director of the Puyuan woolen cardigan market administration.
The mill bought new machines from Shanghai. It worked. More factories and workshops opened in the town.
"The industry must be continuously upgraded to sustain the momentum," Qian said.
It has been luring more designers from around the country and the world.
Park Hayoung came from Seoul as one of 50 compatriots who joined the Puyuan South Korea Fashion Design Center in May.
She has spent half her time in either place since.
But her focus is now shifting to the Puyuan-based center since her business has been booming here.
The center is part of a new cardigan-production zone that's home to hundreds of manufacturers.
"Being in the zone makes communicating with factories easier," Qian said.
Designer Lu Qianya uses an online platform to provide design education to small cardigan companies.
"Enterprises should keep up-to-date with trends," Lu said.
Puyuan is using e-commerce to consolidate its market share.
Zhejiang province is home to China's largest e-commerce company, Alibaba, and has been leading the sector in recent years.
Xia Zhonglin had been selling shoes online from the province's Wenzhou city until two years ago, when he moved to Puyuan and started selling clothes, especially cardigans.
His companies' sales revenue exceeded 80 million yuan ($11.76 million) last year and is expected to surpass 100 million yuan this year, he said.
The busy season is coming with winter.
Puyuan's cardigan sector's sales revenue for the first half of the year was 9.8 billion yuan - online and offline. Over 80 percent of its cardigan companies sell online, and the proportion is growing, local authorities said.