Chinese smartphone vendors investing in India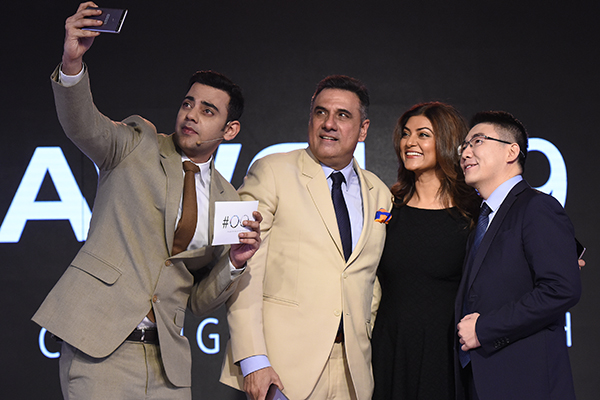 Huawei smartphone P9 is launched in New Delhi, India, Aug 17, 2016. [Photo/VCG] 
Chinese smartphone vendors are stepping up investments in India in a move to establish a beachhead in the world's fastest-growing smartphone arena, as the intensified competition and a saturated home market push them to look for overseas opportunities.
Huawei Technologies Co Ltd, the world's third largest smartphone maker, said it has started assembling smartphones in India by partnering with local manufacturer Flex India.
The move came after Gionee Communications Equipment Co Ltd said in September that it would pour in 495 million yuan ($73.8 million) to build factories in the world's second most populous country. The smartphone plants, located in northern India, will go into operation in two years and its annual production capacity will reach 30 million units.
Zhao Ming, in charge of smartphone business at Honor, a subbrand of Huawei, said: "The Indian smartphone market is likely to exceed 100 million units this year. It is a market no one can neglect. We have a long-term commitment to it."
In the third quarter of 2016, when the global smartphone market grew a modest 5 percent, the smartphone shipments in India grew a healthy 23 percent annually. Almost one in three smartphones shipped to India in the quarter were Chinese brands, data from Counterpoint Research show.
"All major Chinese players are eyeing India for future opportunities," said Nicole Peng, research director at Shanghai-based consultancy Canalys. "Establishing local factories will give players an advantage in supply chain management, thus ensuring an adequate supply of handsets when the Indian market is inching toward faster growth."
Xiaomi Corp, a major Chinese vendor known for its online sales strategy, has also started making handsets in India by teaming up with Foxconn Technology Group, the world's largest contract electronics manufacturer.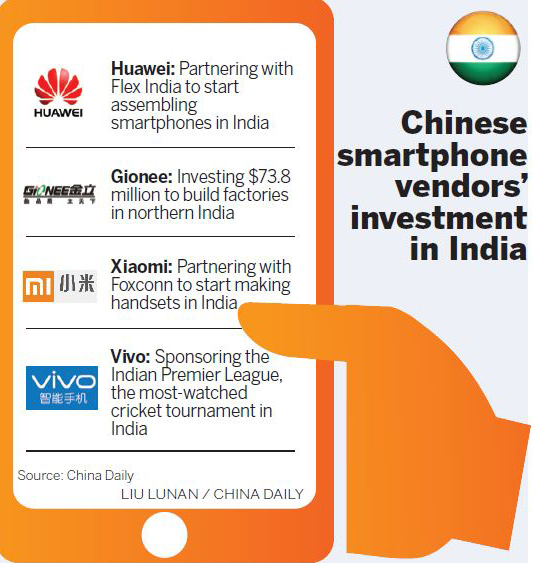 The Beijing-based firm aims to become the largest smartphone vendor in India over the next three to five years. It sold one million handsets within 18 days in October in the run-up to Diwali, the biggest festival in India.
Still, it is not easy to dominate the Indian market, where Samsung Electronics Co Ltd and Indian brands have a big presence, analysts said. To build brand awareness and local influence, Chinese firms are boosting marketing and branding investments.
Vivo Communication Technology Co is sponsoring the Indian Premier League, the most-watched cricket tournament in India. Xiaomi also promised to channel more resources to boost its brand image.
"While first-time smartphone users in India were mostly using homegrown or Samsung-branded devices, the aggressive entry and growth of Chinese brands prompted them to upgrade to high-end yet affordable Chinese handsets," said Pavel Naiya, analyst at Counterpoint.
According to him, due to intense competition in online channels where growth is plateauing, there is a significant shift among Chinese players' retailing efforts.
"Now they are embracing multiple e-commerce platforms as well as offline channels backed with strong promotions and a refreshed portfolio," Naiya added.
Oppo and Vivo, for instance, are very active in finding local brick-and-mortar retail partners, a strategy that has helped them secure the top two position in China in the third quarter.