Global tech chief praises Chinese internet and IT industry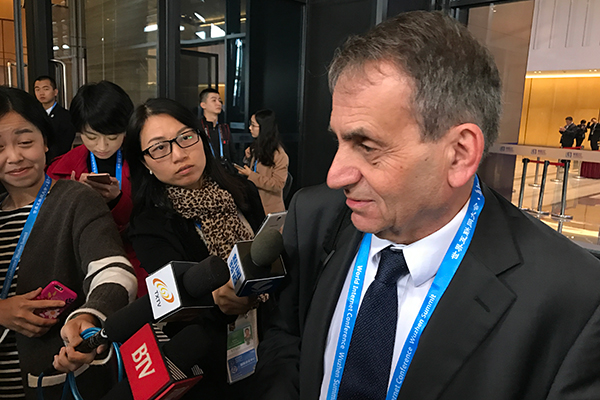 Istvan Sebestyen, secretary general of Ecma International. [Photo by Liu Zheng/chinadaily.com.cn]
Istvan Sebestyen, secretary general of Ecma International, an industry association founded in 1961 and dedicated to the standardization of Information and Communication Technology (ICT) and Consumer Electronics (CE), commented on the most impressive improvement of China's internet and IT industry, saying the country has ranked between number one and number two in the world. In terms of design and development, the top country is definitely the US, but China is number one in terms of production.
"Some of the disciplines discussed on this conference are unique," said Sebestyen, "The disciplines are specialized in not only technical, political, economical areas, and also internet and culture is being talked on in the event… this is the reason that really makes the conference unique worldwide."
He also attended last year's World Internet Conference and said that based on the program he saw this year, internet plus healthcare is among the new topics compared to last year.
"I have a feeling that the conference will be changed year-to-year to include more and more different topics and disciplines," He added.
The comment came after President Xi Jinping delivered a speech in a video message on the opening ceremony of the third World Internet Conference.
The third World Internet Conference is under way in Wuzhen, Tongxiang of East China's Zhejiang province, until Nov 18.
With a theme of "Innovation-driven Internet Development for the Benefit of All – Building a Community of Common Future in Cyberspace", the Conference is composed of forums, an expo, and a release event in addition to the opening and closing ceremonies.
The Conference has 16 forums covering 20 hot issues, such as internet economy, internet innovation, internet culture, governance in cyberspace and international cooperation on internet.