Consumers looking forward to autonomous, connected cars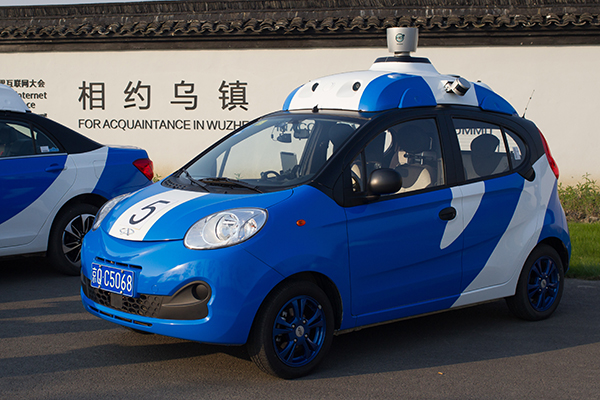 A Baidu autonomous driving car, seen in Wuzhen, Zhejiang province. [Photo/China Daily]
Chinese customers are among the world's early adopters of in-car technologies and premium car buyers are especially willing to pay extra for better onboard connectivity and autonomous driving functions.
About 30 percent of mass-market car buyers and 40 percent of premium car buyers are willing to pay 20 percent more for better connectivity. Onboard connectivity scored higher than price and even engine performance for 51 percent of the respondents, according to a survey by PricewaterhouseCoopers, which interviewed 3,000 car buyers on the Chinese mainland and in Hong Kong.
Besides connectivity, Chinese customers are among the most eager to try new experiences and products, including autonomous driving. PwC's survey shows that 85 percent of Chinese car buyers would be eager to own an automated car, despite recent fatal accidents involving Tesla Motors' vehicles.
A poll of about 600 Chinese consumers by Boston Consulting Group found nearly 40 percent of customers in China are willing to pay more than $5,000 for a fully autonomous function.
The findings surprised both consulting companies, because tech aspects were never previously the selling points in the markets.
"The usual order in similar surveys was price, brand and then design. Now, what makes a brand attractive is not the hardware-having, for example, a 12-inch screen onboard," said Bill Peng, a partner at PwC's Strategy&Consulting group.
PwC attributes customers' emphasis on connectivity to the huge number of digital consumers in the country, tech firms' entry into the auto industry, and government policies, including the Internet Plus strategy the State Council released last year.
Statistics from the Internet Society of China show that there were 1.13 billion active smartphones used by 1.37 billion Chinese in 2015.
Chairman of the China Machinery Industry Federation Wang Ruixiang shared his vision that the innovations are becoming a trend and cars are becoming mobile platforms fulfilling more and more daily needs.
Thomas Dauner, global leader of BCG's automotive practice, said: "People spend on average one hour a day in a car. The driver will be able to use that time for reading and replying to emails, and thus work one hour less every day."
BCG found 43.5 percent of surveyed drivers want their cars to "drop me off, find a parking spot and park on its own." The number two benefit is to "allow me to multitask or be productive during the drive", with 39.6 percent of respondents selecting that in the survey.
Customers have started to focus on intelligent functions and their demands are evolving, so the carmakers are accelerating their research and development on intelligent systems and have launched driving assist functions, according to Qu Guochun, deputy director general of the machinery industry department under the Ministry of Industry and Information Technology.
BCG projected that China would have the largest number of fully and partially autonomous vehicles in the world by 2035, with the number of partially autonomous vehicles expected to reach 5.2 million units, and the fully autonomous predicted to reach 3.4 million units.
PwC believes that truly autonomous cars will not become a reality before 2025. But, looking forward, 58 percent of the respondents say they would use the free time to enjoy entertainment and 35 percent would dine or spend time with family if they had fully autonomous cars.