Xi's Davos visit shows Chinese wisdom, confidence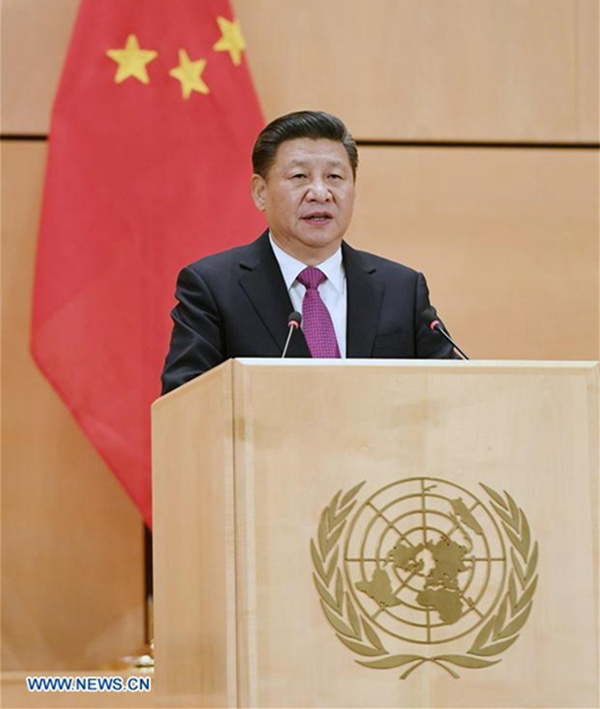 Chinese President Xi Jinping delivers a keynote speech at the United Nations Office in Geneva, Switzerland, Jan 18, 2017. [Photo/Xinhua]
BEIJING -- Chinese President Xi Jinping's four-day visit to Switzerland and his address at the 2017 World Economic Forum (WEF) have shown the world Chinese wisdom and confidence against the backdrop of a sluggish global economy and rising anti-globalization sentiment, Chinese Foreign Minister Wang Yi told reporters here Thursday.
While addressing the opening plenary of the 2017 annual meeting of the WEF at Davos, Switzerland on Tuesday, Xi called for joint efforts to shoulder the responsibility of the times and promote world development, Wang said.
China's proposition on globalization
At the Davos Forum, the Chinese president illustrated the objective necessity of economic globalization, Wang said. Though globalization has met with structural difficulties, Xi, pointing out China's successful experience, emphasized the necessity of "swimming in the ocean" of the world market and pro-actively adapting to globalization.
According to Xi, economic globalization is a double-edged sword.
"In the face of both opportunities and challenges of economic globalization, the right thing to do is to seize every opportunity, jointly meet challenges and chart the right course for economic globalization," he said.
China's plan on world economic issues
Analyzing the root causes of the sluggish global economy and the problems for which globalization has been made the scapegoat, Xi pointed to a lack of robust driving forces for global growth, inadequate global economic governance, and uneven global development, Wang said.
Xi stressed the importance of developing a dynamic innovation-driven growth model featuring open and win-win cooperation, fair and equitable governance, and balanced, equitable and inclusive development.
China's development, world's opportunity
At the WEF, Xi pointed out that China is not only the beneficiary of economic globalization, but also a contributor to it. China's development will continue to offer opportunities to business communities in other countries, he pledged.
In the coming five years, China is expected to import $8 trillion of goods, attract $600 billion of foreign investment, and make 750 billion dollars of outbound investment, said the president, adding that Chinese tourists are expected to make 700 million overseas visits.
China will keep its door wide open, Xi told the forum, voicing hope that other countries will also keep their doors open to Chinese investors and keep the playing field level for them.
On the progress of the Belt and Road Initiative, Xi told the audience that China's circle of friends is growing bigger and the initiative has delivered significant benefits.
Over 100 countries and international organizations have supported the initiative, and more than 40 have signed cooperation agreements with China, Xi said.
According to Wang, the Chinese president offered a series of proposals at the Davos Forum on how to deal with global challenges, and specifically answered some key questions such as "What's wrong with the world?", "What are we going to do about it?", and "What is China going to do about it?".
Xi called on participants to join hands and share weal and woe together, and jointly withstand the tough times. He also offered China's solution to the world's economic problems, along with much-needed confidence and hope for the global economy, Wang said.