Private hospitals rise on back of FDI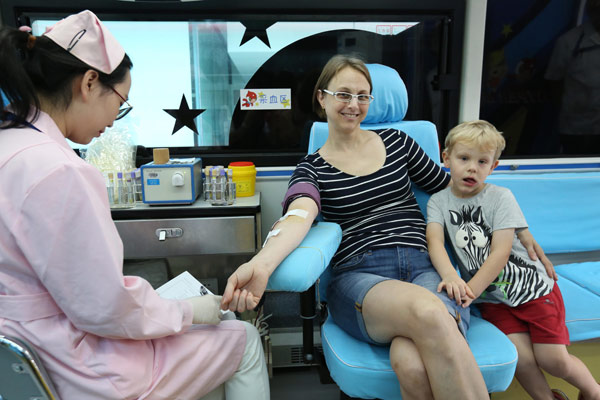 A German receives medical examination at a private hospital in Shanghai. China's existing healthcare system is open to foreign investors. [Photo provided to China Daily]
Private hospitals backed by foreign investors will supplement China's existing healthcare system by offering more complicated surgical operations and high-quality medical services, as well as further enriching the ways foreign direct investment gets used in the country.
The number of private hospitals in China surpassed 17,000 in the first half of this year, accounting for 57.5 percent of the total across the country, according to the National Health and Family Planning Commission.
Shanghai-based Delta-Health, funded by Eight Roads Ventures, is one such private hospital. It is marking its first anniversary in China by showcasing its experience in the private sector.
Its experience suggests private hospitals have a lot of potential to function as an alternative option for both patients and medical workers in a market that is still dominated by public hospitals.
For David Hoidal, chief operating officer of Delta Health, the core competitiveness of private hospitals lays in their advanced equipment, competitive salaries for professionals, attractive career growth and full-cycle services for patients.
"As an important partner of Columbia HeartSource in China, we can offer a chance for doctors and nurses to know about cutting-edge medical discoveries, gain world-class experience and deep knowledge from around the world," said Hoidal.
"I think a pure environment for doctors to learn and develop is very crucial for them," said Desmond Thio, chief executive officer of DeltaHealth. "Within a private environment, they can just do what they need to do without further worries about their livelihood."
For patients, private hospitals provide complete aftercare after surgery, Hoidal said.
Instead of being hostile to each other, private and public hospitals should efficiently work together and form a healthy collaborative relationship, he said.
"In the past, we've hosted academic seminars, forums with established doctors while also inviting public hospitals to join us," said Hoidal. "I believe in the future, when the private sector gradually grows in size, public hospitals will also show interest in how their private peers function."
Last year, the Chinese government released "Healthy China 2030", a blueprint that covers areas such as public health services, the medical industry, and food and drug safety, with the aim of improving the health of the Chinese people.
Thio thinks the future is bright for private hospitals in China. "This is a massive country, and Shanghai is fairly big with a population of over 26 million. One cardiac hospital cannot meet the demand, not to speak of Beijing, Guangzhou, Shenzhen and Hangzhou."