Affluence at home shapes demand for rich hotel experiences abroad
Generation Y's taste for premium interior designs for their homes is affecting their choice in hotels while traveling - bringing opportunities and challenges to a hospitality industry that wants to woo the expanding Chinese middle class.
"This house is cheaper and located next to the (French river) Seine, but I don't like its European-styled oxblood-colored furniture, which makes the room seem dim and depressing to me," said Chen Xinyi.
The 25 year-old office worker made her remarks while going through the options listed on house sharing site Airbnb for her trip in France during the Golden Week holiday.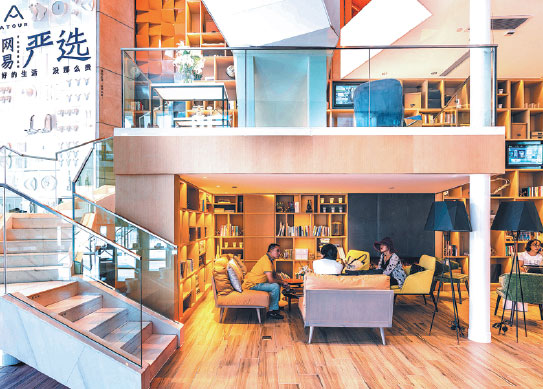 Travellers chill out at the lobby of Yan Xuan, a premium hotel in Hangzhou. Provided to China Daily
"I would like to stay in this modern studio in Montmartre area, the art center of Paris to match my own aura, even if the price is double," she said.
Her face instantly lit up when she spotted a designer lounge made of glass and timber in a two-bedroom apartment, costing almost $250 per night.
Chen and two other friends - who work in financial technology and a government bureau respectively - put up a total of $3,000 or so for their hotel budget for their 10-day stay in Europe.
Their booking list included a modern loft, a minimalistic timber hotel and a black and white-themed designer apartment with a glass-roof lounge, as well as a matte-black jacuzzi on the terrace.
"I don't mind spending a little more since it's the longest holiday in the year for me and I would very much like to stay in a place that can show my identity, my taste and who I want to be," Chen said.