Australian wine fizzes with demand from Chinese mainland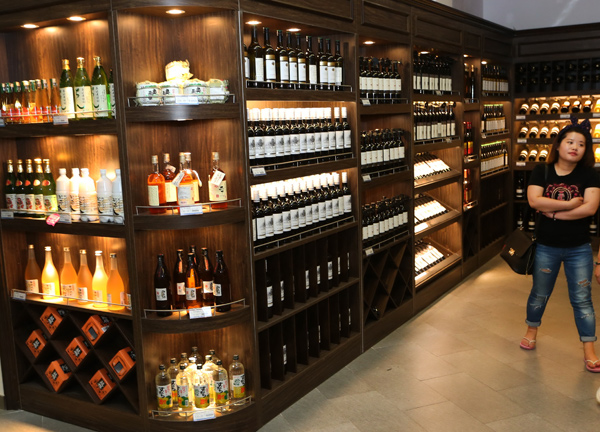 A female consumer walks past an Australian wine stall in Nantong, Jiangsu province. XU CONGJUN / FOR CHINA DAILY
CANBERRA - Stronger demand for premium Australian wine in China has contributed to a 10 percent increase in Australia's overall wine export value, according to Wine Australia's export report released late last month.
China maintained its position as the No 1 export destination for Australian wine in 2016-17, after export value to China grew by 44 percent to be worth A$607 million ($482 million).
The total value of exports grew by A$201 million to A$2.3 billion.
While China remained at the top of the export value tree, the value of wine exports to the United States also grew, but by just 3 percent to A$464 million, while the value of exports to the United Kingdom fell by 7 percent.
Although the export value of wine to the UK fell, the report said the country remained the No 1 destination for Australian wine exports by volume, indicating that UK consumers prefer cheaper Australian wines, while Chinese tastes are a little more expensive.
According to Wine Australia CEO Andreas Clark, there was also strong growth in exports of carbonated wines as well as premium wines.
"Pleasingly, nearly all price points experienced growth and there were benefits for exporters in all segments of the market," he said in a statement accompanying the report.
"An interesting development from last year was the growth in the carbonated wine category, which includes varieties such as Moscato."
"Exports (of sparkling wine) more than doubled to A$30 million. The United States was the destination for 35 percent of the carbonated wine exports, with the Chinese mainland (15 percent) and Japan (14 percent) the other major destinations."
Export director of Handpicked Wines James Hunt said the company's success in the Chinese market was on the back of hard work and recognizing that each market and its culture was unique.
"This is built on the back of tight brand guidelines, frequent market visits, engaged activity and communication with all levels of the distribution chain," he said in a statement.
"As the business grew, we found the need to employ within the region to maintain the brand values and ensure the message was consistent across the region, particularly with local websites, trade material and social media accounts."
Meanwhile, the report said 24 percent of all wine imported into China is from Australia, second only to France, which has a 41 percent share of the Chinese import market.