Star Wars movie a cash-generating machine for industries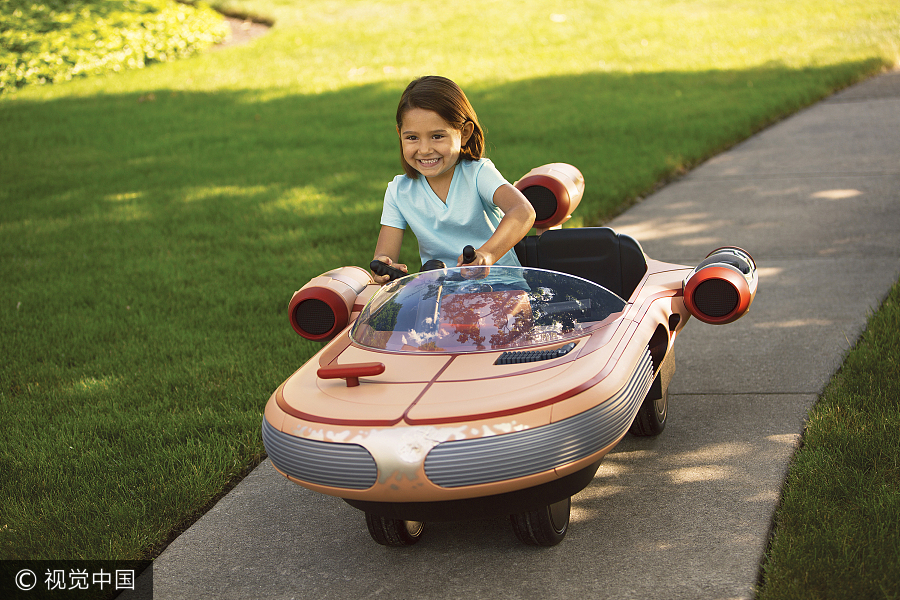 A child-size Star Wars Land speeder, which is modeled after the sand-pocked and sun-faded X-34 craft driven by Luke Skywalker in Star Wars: A New Hope, hit the market on June 9, 2017.[Photo/VCG]
The popularity of Star Wars movie is still going strong all over the world and many industries have cashed in on the success of this movie over the years.
A child-size Star Wars Land speeder has gone on sale in the market and the $499 vehicle by Radio Flyer is modeled after the sand-pocked and sun-faded X-34 craft driven by Luke Skywalker in Star Wars: A New Hope.
This speeder provides a truly galactic driving experience to children with seats for two riders, an interactive dashboard with lights and real movie sounds, and a 5 mph (8 km/h) driving speed.
Bob Chapek, chairman Walt Disney Parks and Resorts, also unveiled the Walt Disney Co "Star Wars" lands 3-D model ahead of the D23 Expo in Anaheim, California, last month.
Two lands, which cost about $1 billion each, will be built in Florida and California and feature a simulated ride on the Millennium Falcon spaceship and an attraction that puts guests in the middle of a battle between the evil intergalactic empire and the rebels fighting them.
In addition to ticket sale, film industry can generate revenue from diversified sources such as toys, theme parks and other related derivatives.