Rice deal opens up huge market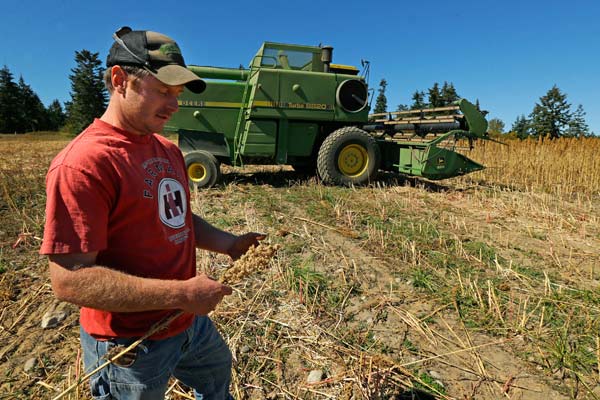 A farmer stands near his combine during harvest near Sequim, Washington. [Photo/Agencies]
China started to allow rice imports from the United States for the first time as part of the latest effort to enhance bilateral trade in agricultural products, the Ministry of Commerce said on Thursday.
Owing to the absence of agricultural quarantine inspection agreements, China had banned US rice imports.
Thursday's move underscores efforts to enhance trade in agricultural produce between the two countries.
"The move will offer US farmers, especially those in the major rice producing states such as Arkansas, Mississippi and Louisiana, access to the world's largest rice consumer," said Ding Lixin, a researcher at the Chinese Academy of Agricultural Sciences in Beijing.
Ding said rice taste preferences of Chinese and US consumers vary, so the US cereal may be used by Chinese food processing, chemical and alcohol businesses.
The US Department of Agriculture or USDA also confirmed the news on Thursday.
China imported around 5 million metric tons of rice last year from global markets, mainly from Myanmar, Thailand and Vietnam. The country began to import rice after it joined the World Trade Organization in 2001.
Eager to enhance the country's grain security, China planned to increase its grain imports during the 13th Five-Year Plan (2016-20) period while continuing to increase its farming capacity, according to the Ministry of Agriculture.
Owing to the growing population and accelerating urbanization, China's annual demand for grain is expected to rise from 600 million tons in 2014 to 700 million tons in 2020.
"Increasing rice, corn, soybean and wheat imports from the US can help China enhance its grain security and make more arable land available for vegetables and fruits," said Xu Xiaoqing, head of the agricultural economics department of the State Council's Development Research Center.
China lifted the ban on imports of US beef in June for the first time since 2003. Chinese buyers signed import deals with their US partners for 12.53 million tons of soybean, 371 tons of beef and pork last week.
USA Rice, the Virginia-based organization representing the US rice industry, said Thursday's agreement was the most complex of its kind, and sets strict standards for US exporters, which will protect China from certain pests.
It added it would work with the USDA to ensure compliance by the industry. The US output of rice is expected to be 6.07 million tons this year, 1.05 million tons less than 2016, the USDA predicted last month.
Contact the writers at zhongnan@chinadaily.com.cn