Economist predicts China's growth may hit 6.9% next year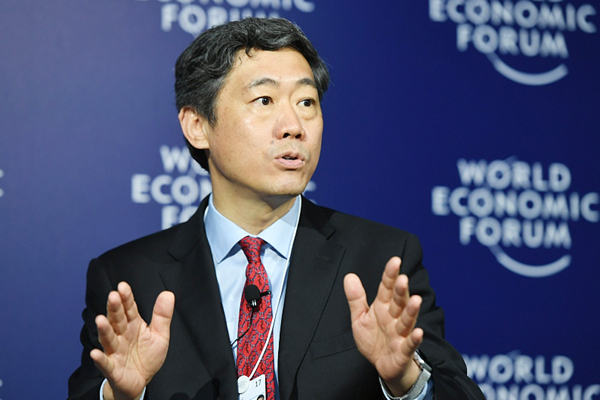 Li Daokui, economist at Tsinghua University, delivers a speech at a parallel forum on The Global Implications of China's Financial Reforms at the Summer Davos in Dalian, Northeast China's Liaoning province, June 27, 2017. [Photo/VCG]
China's economic growth remains solid and is expected to reach 6.7 percent this year and 6.9 percent in 2018, a former central bank advisor said on Wednesday.
"Our forecast is that China's growth can reach 6.7 percent this year, although it may ease a little bit in the second half of this year due to tightened financial regulation," said Li Daokui, an economist at Tsinghua University and former member of the People's Bank of China's monetary policy committee.
Li said the external environment is improving and becoming more favorable for China's growth. He said China's producer price index (PPI), which measures factory-gate prices and reflects the state of corporate activities, has stopped falling and picked up in recent months, meaning corporate profits will rise and investment will increase.
Meanwhile, China's job market has improved and investment and consumption continue to grow at a fast pace. Li told a panel discussion at the three-day Annual Meeting of the New Champions 2017, also known as Summer Davos, that if the trend continues, China's growth can hit 6.9 percent year-on-year in 2018.
China's PPI dropped 0.8 percent year-on-year in August last year, but has returned to positive territory. In the first quarter of this year, China's GDP growth was 6.9 percent, beating market expectations and laying a solid foundation for China to meet its pre-set annual growth target of around 6.5 percent for this year.
A report released by the Bank of China's research institute on Wednesday said China's economy will likely expand 6.8 percent year-on-year this year.
Factors that had bolstered the strong growth in the first half are likely to continue to support the economy in the coming months, according to Gao Yuwei, a researcher with the institute.
"Stable growth in the first half of this year leaves space for the government to enhance regulation in the financial sector," Gao said. "But the government needs to strike a balance between stabilizing growth and lowering leverage ratios. That means the macroeconomic environment can neither be too loose nor too tight."
Although the country's de-leveraging initiative, which is part of its economic structural reforms, may have short-term pressure on growth, such structural reforms are necessary for China to achieve stable and sustainable growth. "This year's economic structuring has laid a good foundation for stable growth next year," said Zhu Min, an economist at Tsinghua University and former deputy managing director of the International Monetary Fund.
But Li said policies of US President Donald Trump, especially those concerning Asia, remain a factor that could bring geopolitical uncertainty and affect China's growth prospects next year.
Another potential risk point comes from the foreign exchange market, analysts said.
The yuan still faces depreciation pressure in the coming months, mainly driven by the US Fed's policy normalization plan, Wang Youxin, a researcher with the Bank of China institute, said.