Cainiao to launch key storage fund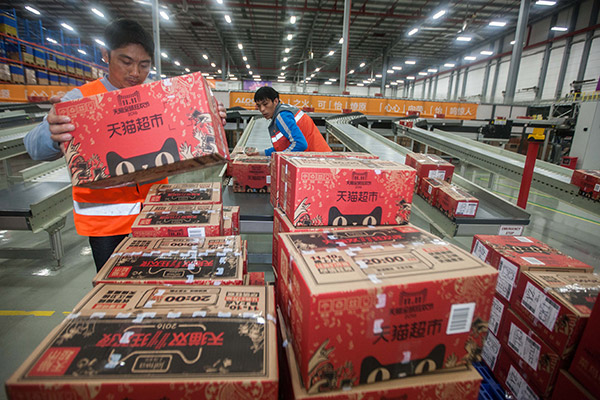 Workers move packages at the automatic intelligent storage base, opened by Cainiao Network Technology, in Guangzhou, Guangdong province. [Photo/Xinhua]
Innovative move set to improve the company's existing logistics nodes
Cainiao Network Technology Co Ltd, the courier aggregator backed by Alibaba Group Holding Ltd, has announced the establishment of a logistics storage fund with a leading Chinese insurer, the latest attempt to cash in on the country's lucrative express delivery market.
By teaming up with China Life Insurance (Group) Co, the 8.5 billion yuan ($1.24) fund was designated to improve Cainiao's existing logistics nodes, a junction in a circuit where goods come to rest, as well as to invest in smart warehouse technologies, Cainiao said in a statement to China Daily on Wednesday.
As the fund's general partner, Cainiao will operate and manage the assets and invest in logistics-related real estate projects, according to the statement. Morgan Stanley serves as the deal's sole financial advisor.
This marks the first such fund Cainiao has established, as the asset-light firm pours in financial resources to build a logistics aircraft carrier loaded with information generated from its partnering couriers.
Unlike its rival JD.com Inc, Alibaba does not own its logistics infrastructure but uses Cainiao to assemble a network of delivery firms and builds a data platform that enables speedier and more efficient service by allowing couriers to bundle deliveries in the same area.
The platform has been locked in fierce competition with delivery major SF Express (Group) Co Ltd, and last month there was a battle over the control of customer information generated through Alibaba's e-commerce sites. The duo cut off data sharing and delayed parcel arrivals-moves which almost threw the market into disarray.
For the likes of Alibaba, investing in smart logistics is necessary in light of the "new retail" era, when orders are placed much faster as the dichotomy between online and offline channels becomes a thing of the past, said Duan Yan, co-founder of oTMS, a cloud-computing transport management provider.
Combining upstream data on e-commerce platforms could allow couriers to realize end-to-end forecasting, cut the time for parcel sorting, and provide a consistent shopping experience, he said.
China's smart logistics market, which features the use of big data, cloud computing and artificial intelligence in goods delivery, is projected to grow fivefold to 1 trillion yuan by 2025, according to estimates by the China Federation of Logistics and Purchasing.
The pursuit of data has propelled Cainiao to partner with Chinese leading automakers to manufacturer 1 million vehicles for smart transportation.
At a logistics summit in May, Alibaba founder Jack Ma urged courier operators to transform into "data companies", saying that the future lies in commanding and utilizing that sheer volume of data.
Betting on its strength in smart logistics, JD has established a logistics business unit to oversee smart supply chains and is comfortable using drone technologies to offer delivery services in out-of-the-way locations without incurring high logistics costs.