Qinghai eyes clean energy record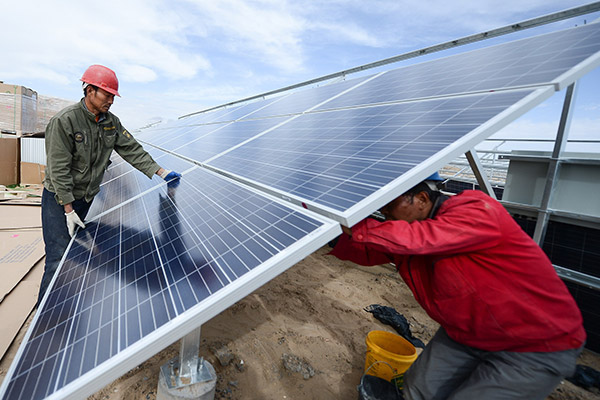 Workers install solar panels in Golmud, Qinghai province. [Photo/Xinhua]
Qinghai province will cut its carbon emissions to zero for the first time and power the entire province by renewable energy for seven days as a trial, said a top leader of the province.
"From June 17 to June 23, the power supply for the entire Qinghai province will rely on clean energy from wind, hydropower and solar power, and achieve zero emissions for 168 hours non-stop," Wang Liming, deputy governor of Qinghai, said at the 18th Qinghai China Investment & Trade Fair For Green Development.
"It will break the current record of four days held by Portugal."
The province, with a population of 5.8 million people, is rich in natural resources, thanks to its plateau location and over 3,000 hours of daylight every year. It has attracted a number of wind power plants and photovoltaic companies as well as major hydro-power stations.
During the seven day program, 78.3 percent of the power supply will come from hydropower and the rest will be generated by new alternative sources.
"This is the first time in China that a province will run solely on renewable energy for a long period of time. We believe it will raise awareness of emission reduction and promote the development of clean energy nationwide," said Han Ti, vice-manager of the provincial power grid company.
"Qinghai is the country's important warehouse of natural resources and it plays a vital role in the development of the nation's green industry," said Miao Wei, minister of industry and information technology, said at the trade fair.
"With such profound potential in green industry, Qinghai needs to make better use of its natural resources and promote energy-saving equipment manufacturing."
Last year China consumed 4.36 billion metric tons of coal, of which 70 percent was for industrial use. Industry accounted for a quarter of total water consumption, he added.
Thanks to its unique geographical advantages, Qinghai is making rapid progress in the development of clean energy.
According to the provincial power grid company, Qinghai had a total installed capacity of 23.45 million kilowatts by this May, of which half was supplied by hydropower. It is now China's second-largest solar power base, with a solar capacity of 6.8 million kilowatts, almost a third of the province's total.