Chef then, chief now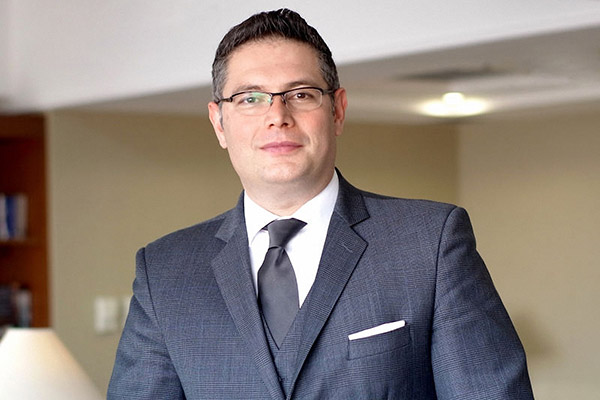 Ugur Talayhan, a native of Turkey and managing director of the Astor Hotel, the Westin and the Sheraton, the three Starwood hotels in Tianjin. [Photo provided to China Daily]
Turkey's Ugur Talayhan brings decades of experience to Tianjin's top luxury hospitality brands
Ugur Talayhan started as a chef and graduated to management roles around the world in the hospitality industry. More than two decades on, he is managing director of three Starwood hotels-the Astor Hotel, the Westin and the Sheraton-in Tianjin in northern China.
A native of Turkey, his role of chef at resorts and hotels took him to London, Portugal and Dubai. Talayhan said his experience in cooking since childhood, and knowledge he drew from his first passion, have prepared him well for his current position.
To be sure, managing three hotels at a time, even if they are in the same city, isn't an easy job. In the past, it took three people, one for each hotel.
"As a chef, you've to be a perfectionist, which is very important in hospitality, as our guests expect the best and we are proud to offer it," said Talayhan, who has been in the hotel sector for 27 years.
"Chefs work long hours to deliver plate after plate of great food to the guest's table. That dedication doesn't change with high-level management. My experience as a chef helps me in my manager role. I know not only the front of the house but the back," he said.
"Cooking has not only taken me out of my first home in Turkey but taught me to be hardworking, allowing me to be creative, which is something that has stayed with me."
As foreign hotels continue to expand business in China, their focus has shifted to second- and third-tier cities. For, metros like Beijing and Shanghai already have enough number of hotels. But smaller cities like Tianjin are attracting more tourists.
Talayhan explained this was due to a great deal of wealth in these cities-they now need the facilities to support this growth.
"People are expecting to stay in international hotels now wherever they go in China and many of these cities are now expanding at a terrific rate, which means more demand," he said.
However, running a hotel in a second-tier city does not mean a lower service level. As a global company, it's necessary for Starwood to do the same as in first-tier cities and around the world, Talayhan said.
"It's our job to educate staff who are new to the company, particularly when we enter a new market where perhaps the established competition doesn't have the same levels of experience," he said.
"It was necessary to find a way to respect both our ethics and local customs, and it does require a special skill to find the balance between the two."
With higher purchasing power, Chinese are increasingly willing to splurge on both better service and enhanced travel experiences. This means, they prefer to stay at high-end hotels wherever they go.
A hotel's brand, its location and distinct elements are the top three factors that wealthy Chinese people consider when they choose hotels.
High-quality accommodation, Michelin-starred dining and opportunity to experience local culture also determine people's choices.
In order to satisfy this relatively new level of expectation, Marriot has been focusing on new and bespoke experiences in its hotels, including tailor-made cooking and cocktail-making classes delivered by the industry's finest. It also offers extraordinary summer experiences such as the Haihe river tours in Tianjin.
Marriott, as one of the largest hotel groups with 30 distinctive brands, including W, JW Marriott, Ritz-Carlton, St Regis, Bulgari and Luxury Collection, offers something for everyone aiming to attract every kind of guest.
"The same could be said about the three hotels I oversee in Tianjin. The Astor Hotel is a historic 154-year-old property and the only hotel with its own museum; Sheraton is the first international five-star hotel in Tianjin; and the Westin Tianjin is one of the few hotels that is right in the middle of the city center, next to the best shopping," said Talayhan.
He said he pretty much enjoys the challenge of overseeing three distinctive and unique hotels. "I've worked at all three brands before, so I know them very well. I love creating experiences. It's a fantastic platform from which to try and excel every day."
In his view, new short-term accommodation options offered by digital platforms like Airbnb would not pose too much threat to the traditional hospitality sector.
"Budget and value brands are bound to see some impact, but the effect on the luxury segment is milder where the expectations and experiences are different," he said.
"It's important for our guests that we're on hand to help with anything they might need during their stay, an aspect that has been somewhat removed from services such as Airbnb."