Behemoth wants 'to play a bigger game'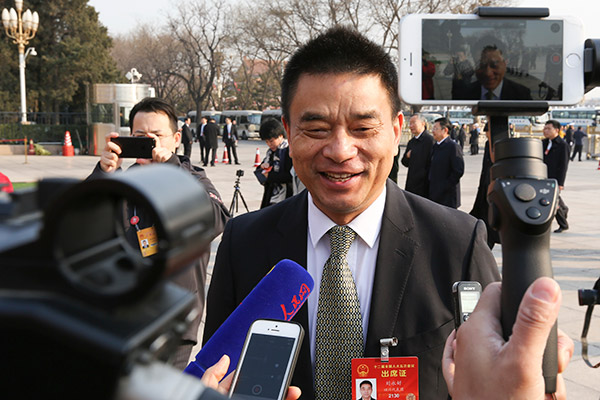 Liu Yonghao, chairman of New Hope Group, speaks to mediapersons on the sidelines of the annual two sessions of the national legislature and political advisory body in Beijing last week. [Photo/China News Service]
Agri, finance major New Hope Group eyes 40% of sales from markets abroad
Chinese conglomerate New Hope Group is planning to expand into developed countries and other international markets related to the Belt and Road Initiative to increase its overseas sales in the coming decade.
The Chengdu, Sichuan province-based diversified group makes and distributes feedstuffs, meat products, chemicals; it also has a presence in the financial services industry.
"Currently, the products we produce overseas account for only 10 percent of our sales. We hope to increase that fourfold in the next 10 years," said Liu Yonghao, chairman of the group.
He was speaking in Beijing last week where he was attending the annual two sessions of the national legislature and political advisory body.
According to Liu, although China has the world's biggest farm output, it has fallen behind in international agriculture trade.
"How to keep up with the speed of the industry? That's the biggest challenge of our agri-food companies," he said. "(We can keep up by) investing in the first-tier countries and collaborating with them in research, advanced manufacture, seeds, breeding and logistics. (By doing all that), we would be able to play a bigger game on a global scale."
Agreed Han Changbin, China's minister of agriculture. "Companies must play a leading role in the cross-border collaboration in agriculture. We need to cultivate future agricultural companies that have international vision and can promote overseas investment, in order to create an ecosystem complete with communication mechanisms for understanding agricultural technology."
New Hope Group started its global expansion in 1997 when it opened its first overseas factory in Vietnam. So far, it has built or bought dozens of companies in over 30 countries, including the Philippines, Indonesia, Singapore, India, Brazil, Egypt and Poland.
After China launched its Belt and Road Initiative in 2013, New Hope Group set its next goal: expansion into markets along the route, which includes developed countries.
"In the past, our main overseas business was limited to investing in the developing countries. But now, we aim to expand into developed countries through acquisitions," said Liu. "We set up regional headquarters in Singapore and Australia, and we are planning another one in the Netherlands in Europe."
In Australia, Liu-led New Hope Group hopes to work with Australia's leading abattoirs and food-processing companies. The group is also looking for further investment in dairy and healthcare products.
Last year, it acquired Australia Naturalcare, an online seller of vitamins. It also bought Kilcoy Pastoral Company, Australia's leading food processor and exporter, and has been doubling its slaughter capacity to 500,000 cattle per year.
The group has invested $150 million in Australian beef and dairy industry. It is expecting to invest $760 million in agriculture by 2020.
Besides increasing overseas investments, the company is eyeing the rising domestic demand for better agri-products.
"Nowadays, people are eyeing quality food but that's in short supply, be it quality beef, lamb and premium seafood," he said. "Demand is massive and we need to meet people's requirements. Further agricultural reform-that's our new mission.
"To fill the demand-supply gap in the premium protein segment, we need to integrate our efforts in overseas and domestic markets. For instance, we ship cattle from Australia and process meat at our processing companies in Shandong."
To deepen agricultural reform and develop rural economy, the government needs to increase policy support for the agribusiness, he said.
According to Han, minister of agriculture, this year will see deepening of the supply-side reform, which will likely help improve the rural economy.
At the two sessions in Beijing, Liu said upgradation and reform of rural economy requires better finance services.
"Finance services in rural areas can hardly meet the surging demand," he said, "It's hard and taking a long time for rural clients to receive finance."
Agreed Han. "To help agribusinesses, we need to innovate policy-making and provide sufficient support to different aspects like finance and insurance."
Liu said strict regulation and tight supervision of the finance sector in rural areas is needed as inadequate financing has given rise to unlicensed businesses, usury practice and illegal fund-raising.
He also underlined another concern: potential food safety hazards due to the boom in takeaway businesses.
According to him, the takeaway segment has surged to 240 billion yuan ($ 35 billion) and is still growing at 30 percent annually.