Industrial upgrade spurs foreign trade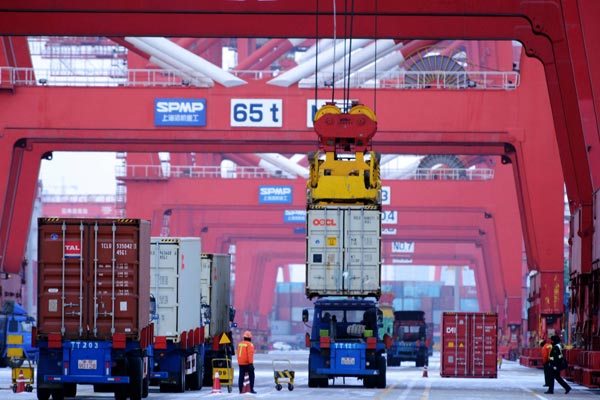 An undated photo shows a ship loads containers at a terminal in Qingdao, Shandong province. [Photo/China Daily]
China recorded double-digit growth in exports and imports in January, thanks to surging industrial demand and enhanced manufacturing capabilities as a result of the ongoing industrial upgrading, experts said on Friday.
Imports surged by 25.2 percent year-on-year to 911.2 billion yuan ($132.4 billion), indicating growing demand amid ongoing supply-side reform.
Exports increased by 15.9 percent to 1.27 trillion yuan, according to the General Administration of Customs.
Commodity imports, such as iron ore, crude oil and coal, continued to grow in January, featuring general price rises.
China bought 92 million metric tons of iron ore from global markets last month, up by 12 percent year-on-year, with an average price of 525 yuan per ton.
Crude oil imports reached 34.03 million metric tons in January, 27.5 percent higher than the same period a year earlier.
"The rebound in commodity prices and overseas demand for industrial products boosted the country's exports.
"The growing imports were also attributed to this year's Spring Festival, which arrived earlier than last year," said Xu Yang, an analyst at Sinolink Securities.
China's foreign trade reached 2.18 trillion yuan in January, up by 19.6 percent year-on-year. This led to a monthly trade surplus of 354.53 billion yuan, down by 2.7 percent from a year earlier, customs data show.
As both trading prices and volume of commodities were notably higher than the same period last year, China's trade surplus might narrow in the future, since domestic demand is likely to improve continuously, Xu said.
The continued recovery of the world economy and rising demand in the global market also played big roles. Trade with the European Union, China's biggest trade partner by volume, surged by 14.1 percent year-on-year in January.
Meanwhile, trade with the United States, China's second-biggest trade partner, rose by 21.9 percent.
"Even though this is an encouraging result, exports are still constrained by instability in the recovery of global demand, growing trade frictions and the reality that China's new competitive edge in high-end service and manufacturing sectors has not been fully established," said Huo Jianguo, vice-chairman of the China Society for World Trade Organization Studies.
Tu Xinquan, a professor at the University of International Business and Economics in Beijing, said big-ticket projects also mean huge demand for Chinese equipment, construction materials, services and technologies in markets in countries and regions along the Belt and Road Initiative. They will continue to support China's foreign trade.
A number of infrastructure projects have been launched along the Belt and Road trading routes, including Pakistan's Karakoram Highway and Karachi-Lahore Motorway and the China-Laos Railway.