When small means big in China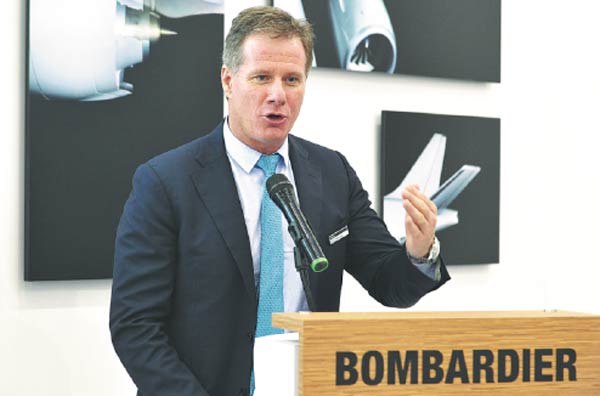 Colin Bole, senior vice-president, Bombardier Commercial Aircraft, speaks at the Zhuhai Airshow in November 2016. [Photo provided to China Daily]
In recent times, China's aviation policy has shifted its focus away from bigger aircraft, key air routes and major airports, a feature that particularly characterized the eastern side-and Canada's Bombardier Commercial Aircraft is all excited.
The Montreal-headquartered small aircraft manufacturer foresees big opportunities in the shift. "The new aviation policy has helped shift the focus to smaller aircraft, startup carriers and new regional airports. Given our cost-efficient regional aircraft, the new policy provides us significant opportunities to grow," said Colin Bole, senior vice-president, Bombardier Commercial Aircraft, at Bombardier Inc.
Currently, Bombardier has about 150 aircraft in operation in China. That's a fraction of its more than 10,000 aircraft in operation globally.
But China is becoming key to Bombardier's future. For instance, half of the main structure of Bombardier's new single-aisle aircraft, the CS 300, was made in Shenyang, China. The CS 300 is expected to be pressed into service in China in 2018.
And, over the next 20 years, Bombardier foresees a need for 2,450 aircraft with 60 to 150 seats in China. It expects to grow its business big time in the country.
That's because regional aircraft account for only 2.5 percent of the total fleet operating in China, compared with 25 percent worldwide, according to ATR, a joint venture between Airbus Group and Italy-based aerospace company Leonardo-Finmeccanica.
It is projected that by the end of the 13th Five-Year Plan period (2016-20), China will have 500 new airports, and more than 5,000 general aviation aircraft will be in operation. The industry's worth will exceed 1 trillion yuan ($1.4 billion), according to the Civil Aviation Administration of China.
Bombardier is eyeing a big slice of the Chinese aviation pie. The Montreal-based Bole, a Scot who joined the company two years ago, appears to literally wear his philosophy of collaborative efforts. Attired in a dark-grey suit and purple tie, Bole is a picture of cordiality and realism.
While the scope for growth in China is enormous, there is no magic recipe for success, he said.
Growth and progress are likely to be difficult, although Bombardier's first aircraft of its latest C series models entered service in July 2016, whose number quickly grew to seven by 2016-end.
"The CS 300 aircraft are well suited to the development of smaller and regional routes. We are talking to major airlines as well as startup airlines in China. We are bullish about the growth potential of the regional aircraft market in the country," Bole said.
"Particularly, we plan to develop flights out of regional airports in central and western parts of China. The CS 300 aircraft has optimized capacity to match the demand of second-and third-tier markets." To meet such demand, Bombardier won't shy away from making fresh investments in China, he said. "We are always looking at ways to be more efficient and economical, to reduce the costs and get closer to customers. When the opportunity is right, we will make more investments."
At a personal level, Bole said a boss has to be understanding, open-minded and adaptable. "I don't want to give orders that people disagree with. I want to have a consensus, an echo, and have the staff embrace the decisions that are made. I'm very much a listener and a team player type of manager."
Bole received his BA in mechanical engineering and MA in aeronautical and astronautical engineering from Stanford University. He rose through the ranks over the past decades in his career in civil aviation. He has held various leadership positions at Intrepid Aviation, International Lease Finance Corporation, Macquarie Airfinance Ltd and Airbus Group SE.