Anbang boosts holding in major builder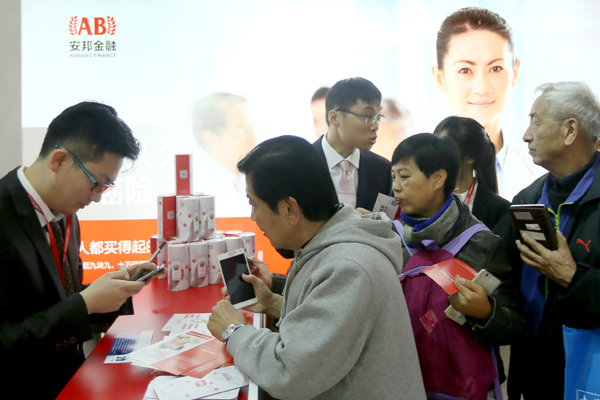 Visitors line up to get more information about a health insurance policy offered by Anbang Insurance Group at an international finance expo in Beijing. [Photo by Lei Kesi/For China Daily]
Chinese insurance conglomerate Anbang Insurance Group has substantially boosted its holdings in China State Construction Engineering Corp, the country's biggest construction company, drawing regulatory attention to the purpose behind the move.
The construction firm said on Tuesday it received an inquiry letter from the Shanghai Stock Exchange asking about Anbang's recent massive purchase of the shares.
Anbang has bought at least 363 million shares of the construction giant since Friday, boosting its holdings in the company to 6.21 percent of total outstanding shares, making it the fourth-largest shareholder of the company, according to public filings.
The stock exchange questioned Anbang's status as a financial investor and asked it to explain the purpose of the share purchases and whether it intends to participate in the operation and management of the construction company.
Anbang said that the purchases reflect its confidence in the business prospects of the construction company.
Anbang's move highlighted the desire of Chinese insurers to better allocate their funds into assets with reasonable long-term yields, at a time when there is a lack of investable assets amid the economic slowdown, analysts said.
Yang Tao, an analyst at Zhongtai Securities Co Ltd, said the solid fundamentals and the cheap valuation of the stock of the construction firm are the reasons behind Anbang's purchase.
"It is highly likely that Anbang will continue to purchase the stock," Yang said, noting that the stock with a price-to-earnings ratio of 7.8 times is substantially undervalued, given the average PE ratio of 15 of State-owned construction companies.
Lu Ping, an analyst at China Merchants Securities Co Ltd, said that the construction sector seems to be one of the few attractive sectors for insurance funds as the Chinese economy slows down.
"Investment in the manufacturing sector has been sluggish and high growth in the property sector is unlikely to be sustainable, leaving the construction sector the only reasonable option when it comes to equities investment by insurance funds," Lu said.
The stock price of CSCEC rose 1.44 percent to 9.18 yuan ($1.34) on Wednesday.