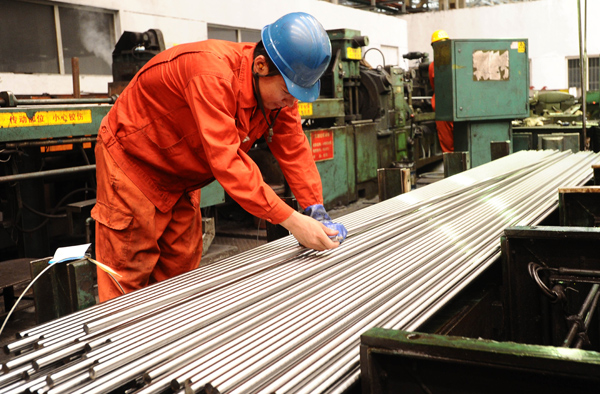 A worker works at a steel factory in Dalian, Northeast China's Liaoning province, on Aug 10, 2016. [Photo/VCG]
Chinese steel companies are managing to ride over the tough times thanks to complementary businesses, said a top official of president of China Metallurgical Industry Planning and Research Institute on Saturday.
"Steel covers a wide range of industries, including minerals, recycling, logistics, environment management, finance and steel deep processing, which provide a lot of options for the steel smelters," said Li Xinchuang, the president of the institute.
The major complementary businesses of steel companies include high technologies, waste gas recycle, real estate and finance.
In 2015, large- and medium-sized steel companies in China reported 112.7 billion yuan ($6.77 billion) loss in their main business. In comparison, their complementary businesses recorded 48.1 billion yuan's profit.
The complementary businesses of some of the super-large steel smelters, such as Baosteel Group, Shougang Group and Wuhan Iron and Steel Group, have reached or exceeded 100 billion yuan.
Li suggested that the complementary businesses should be part of the steel smelters' long-term plans.
"The complementary businesses can form its own cycle where real estate, trade, new energy and logistics generate sufficient cash flow and profits to support deep processing and waste management. This way, the companies' portfolio will be more diversified and less reliant on steel, which is facing overcapacity downsizing pressure," said Li.
Li Bing, chief of the corporate reform office of the State-owned Assets Supervision and Administration Commission, said that China's urbanization will generate huge potential for steel demand.
According to Li, China's urbanization rate, which is 55.9 percent, is far lower than the average 70 percent among developed countries.
"The need for houses and automobiles in China has far been satisfied. The problem is that the population in large cities is stretching the limited resources because they don't want to stay in mid and small cities. As urbanization deepens, the potential demand will drive up industries in various sectors," said Li Bing.