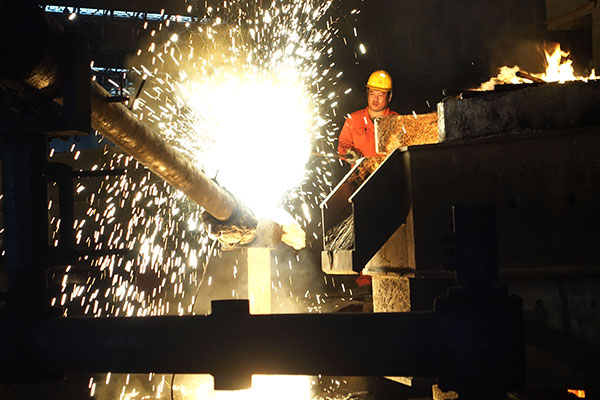 Workers at a steel factory in Dalian, Liaoning province. [Photo/China Daily]
China's steel companies will see better performance in March due to price rises and the central government's destocking policy for the real estate industry, experts said on Thursday.
Wang Guoqing, consultancy director at the Lange Steel Information Research Center, an industry think tank in Beijing, said demand for steel will gradually increase in March, which will lead to improved conditions for the companies in the industry.
The price of steel products increased by 120 yuan ($18) per metric ton after four successive days of increases. It reached 2,260 yuan a ton on Tuesday.
Du Cheng, an analyst at JYD Online Corp, a Beijing-based bulk commodity consultancy, said steel companies in Hebei province, a major steel-producing area in the country, will cut production for environmental reasons between April to October when the International Horticultural Exposition is held in Tangshan, a major steel-producing city in Hebei, which is the major cause of the recent price rises.
"The steel companies are using the coming production cut to hype the price," he said.
The raw material sector has also taken advantage of the situation to hike prices.
Iron ore prices at China's Qingdao port in Shandong province soared 19 percent to $64 a ton on Monday, a record daily rise since 2009, after the steel market witnessed four days of successive rises since Saturday.
By last month, the global iron ore price, which is largely affected by Chinese demand, had declined more than 70 percent over the past three years.
The world's top four iron ore companies all reported losses last year even though their operational costs were well under control.
The price started to pick up gradually since December, when it fell to a low of $38 a ton.
Du said the high price will not last long due to the unchanged supply-demand situation in the iron ore sector.
He predicted that iron ore price will fall when the official announcement on the steel production cut is made later this month. He estimated that iron ore price will drop to below $50 in April, which will also be good news for steel companies.
Zhou Wei, an analyst with the Lange Steel, said the iron ore price was up 20 percent in total since the beginning of the year but still at the stable level in February and will stop growing in March.
Goldman Sachs Group Inc also predicted that any increase in raw material prices will prompt more supplies to enter the market, making it difficult for any advance to be sustained.
Jeffrey Currie, commodities analyst with Goldman, wrote in a report on Monday that the surge in iron ore prices would prove temporary and reiterated that oil will fluctuate between $20 and $40 a barrel.
He said higher prices are much harder to sustain in a supply-driven market since supply is primed to return with higher prices.