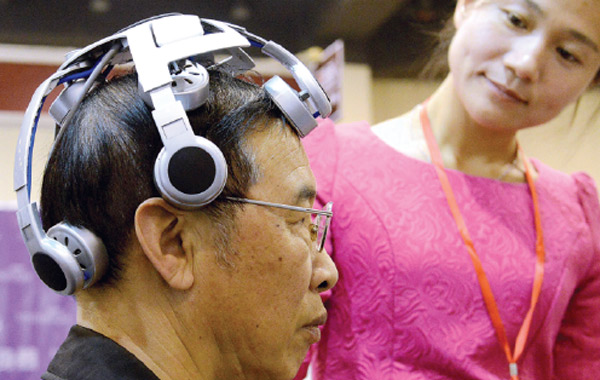 A man tests a brain disease treatment device at an international expo for the industry for seniors in Zhengzhou, capital of Henan province. [Photo/China Daily]
BEIJING - China's healthcare sector saw increased mergers and acquisitions (M&A) in the first six months, thanks to regulatory reforms and policies promoting investment.
The combined value of M&A deals in the healthcare industry was 14.3 billion yuan ($2.12 billion) between January and June, according to a report released Friday by global accounting firm PwC.
Dynamic M&A activities including investments in large enterprises contributed to the record high deal value, but investment in healthcare e-commerce entities stagnated, resulting in a sharp decline in related deal value, said PwC.
Breakdown figures showed that transaction value of M&A deals for domestic hospitals in the first half of the year spiked 83 percent compared to the second half of 2015, and cross-border hospital deals increased nine-fold over the same period, noted the report.
"The outbound hospital M&A market is still at an early stage. Right now, major investors including large healthcare and pharmaceutical enterprises and insurance companies are focusing their investment toward large healthcare management groups in areas with mature healthcare systems," said Leon Qian, PwC Northern China Transaction Services and Healthcare Industry leader.
Among various investment targets, large hospitals and healthcare management enterprises have drawn the most attention, with corresponding deal value surging seven-fold in the first six months of this year compared to that in the second half of 2015, noted the report.