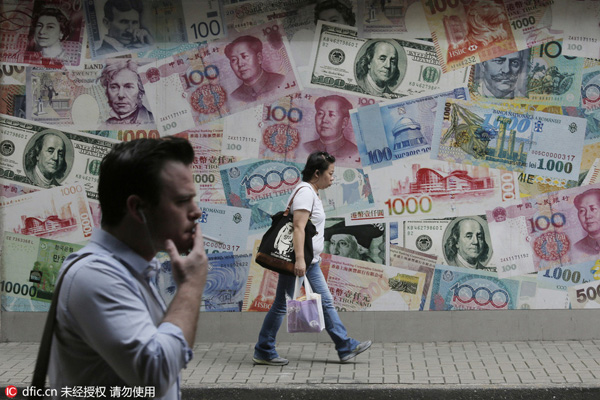 People walk past a money exchange decorated with different currencies in Hong Kong, June 27, 2016. [Photo/IC]
Global economic growth is subdued and could fuel more protectionism, according to a report released on Tuesday by the International Monetary Fund.
In its October 2016 World Economic Outlook, the IMF forecast global growth at 3.1 percent this year and 3.4 percent in 2017, the same as it predicted in July, shortly after Britain's vote to exit the European Union.
The pickup in 2017 will be driven mainly by emerging markets, the report said.
The outlook report marked down its growth prospects for advanced economies, while marking up those for the rest of the world. But 2017 prospects for both country groupings remain unchanged.
"Taken as a whole, the world economy has moved sideways," said Maurice Obstfeld, chief economist at the IMF, at a news briefing on Tuesday morning in Washington.
The IMF report expressed concern that persistent stagnation, particularly in advanced economies, could further fuel populist calls for restrictions on trade and immigration. Obstfeld said such restrictions would hamper productivity, growth and innovation, citing the examples of Britain's vote to leave the European Union and the anti-trade rhetoric of the US presidential campaign trail. Such things create uncertainty for investors, he said.
"It is vitally important to defend the prospects for increasing trade integration," he said. "Turning back the clock on trade can only deepen and prolong the world economy's current doldrums."
The IMF predicts that China's economy, the world's second-largest, would grow 6.6 percent this year and 6.2 percent in 2017, down from 6.9 percent last year.
It said policymakers in China will continue to shift the economy away from reliance on investment and industry toward consumption and services, a policy that is expected to slow growth in the short term while building a foundation for sustainable long-term expansion.
But it said the government should take steps to rein in credit that is "increasing at a dangerous pace" and cut off support for nonviable State-owned enterprises. China should accept the associated slower GDP growth, the report said.
The IMF also forecast that India's GDP would expand 7.6 percent this year and next, the fastest pace among the world's major economies.
It forecast the growth of emerging markets and developing economies to speed up this year for the first time in six years, to 4.2 percent, slightly higher than the July forecast of 4.1 percent.