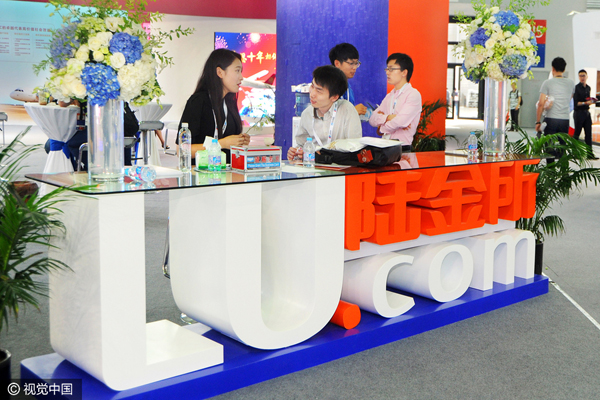 Lufax's stand at Shanghai Digital Information Fair, June 30, 2016. [Photo/VCG]
Lufax, China's biggest peer-to-peer lending platform backed by Ping An Insurance, is in talks with four investment banks about taking leading roles in its planned Hong Kong IPO, people familiar with the matter told Reuters.
The initial public offering could raise $5 billion, Thomson Reuters publication IFR reported previously.
CITIC Securities, Citigroup, JPMorgan and Morgan Stanley have started preparatory work, although no formal mandate has been awarded, the people said.
The timing and size of the IPO are still undetermined, but the four banks are likely to land the key sponsor roles for the deal, they said, declining to be identified as the information has not been officially disclosed.
Lufax, valued at $18.5 billion in a January fundraising, would be the first peer-to-peer platform to list in Hong Kong.
The IPO comes at a time of surging growth in P2P lending and will test investor appetite for a new breed of companies that threaten to disrupt the traditional financial industry.
Lufax and Ping An declined to comment.
CITIC CLSA, the Hong Kong investment banking unit of CITIC Securities, Citigroup and JPMorgan also declined to comment. Morgan Stanley did not offer an immediate response.
Peer-to-peer platforms help link up individual or institutional investors looking to invest their cash with borrowers including small and medium-sized enterprises, students and other individuals that need funding.
Those companies are part of a booming financial technology (fintech) industry in China that hopes to offer a young and increasingly affluent population speedy and easy-to-use services on their mobile phones.
The volume of Chinese P2P loans stood at 680.3 billion yuan ($102 billion) at the end of August, more than 20 times levels seen in January 2014, according to industry data provider Wangdaizhijia.
That could swell to 880 billion yuan by the end of 2016 and to 1.5 trillion yuan by the end of 2018, according to estimates from Nomura.
But P2P lending has also drawn much scrutiny from regulators.
Seeking to head off rising risks in the market, Chinese authorities implemented aggressive steps including requiring borrowing limits and the use of third-party banks as custodians of investor funds in P2P platforms.
Reuters