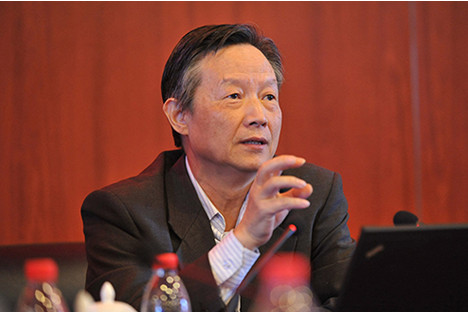 File photo: Qiu Baoxing
A number of high-ranking policy advisors and experts have expressed concern over the heating of the Chinese property market. Some have proposed policies to cool it down.
Ren Zeping, chief economist of Founder Securities, pointed out at a forum on Sept. 21 that bubbles have recently appeared in China's housing and property market. This development is likely due to low interest rates pushing housing prices and land value sky high.
According to Qiu Baoxing, State Council counselor and previous deputy minister of Housing and Urban-Rural Development, a key factor is the contradiction between the policies enacted by the financial departments. The State has been vigilant in heating the housing market, while the idea of suppressing the asset bubble was first floated at a conference held by the Bureau of the Central Committee.
Qiu also explained that he has submitted a proposal to the State Council, recommending gentle, dispersive and decentralized adjustment policies. By now there are two elements influencing the trends of property market: taxes and the extension of property ownership.
Qiu proposed changing housing and land property tax to a combined tax, including at least the four categories of consumption tax, habitation vacancy tax, conveyance tax and property tax. Moreover, Qiu believes the establishment of these taxes and the right to adjust credit loans should be granted to local governments. They can conduct adjustments based on the rigid demands and speculation of the local market. As for the role of the central government, Qiu believes it would be enough to simply set goals and establish an accountability system for local governments.
According to China's existing law, the extension of ownership of commercial housing and general housing is required after 40 and 70 years respectively. According to Qiu's proposal, when a housing property requires an extension, the second conveyance fees can be calculated and charged on a yearly basis, and these fees can be automatically changed into the housing property tax.