Housing to hit screens
By Lu Wei Updated: 2016-09-19
The TV series Housing, based on the events of a shanty house clearance project in Beiliang, Baotou, Inner Mongolia autonomous region, will make its debut on CCTV 1 on Sept 20, Baotou Daily reported on Sept 14.
Housing tells the stories taking place during the Beiliang shanty house clearance project, which is one of the key livelihood projects of Baotou, Inner Mongolia. It depicts humanity, unity and close ties between people.
Beiliang, Baotou, is an area considered to be the cradle of the city. More than 90 percent of the buildings in Beiliang were built around 1949.
Once being the largest area of shanty housing in China, Beiliang started the shantytown clearance project in 2013 and has successfully completed the work. Houses covering an area of four million square meters were demolished and 109,000 residents were rehoused.
Much emphasis was put on the filming of Housing, for it is the first TV series about shanty house clearance in China. Different from many other TV series, Housing will mainly focus on the lives of the poor.
Zhao Dongling is the screenwriter of this 30-episode TV series. Being one of the most influential screenwriters in China, Zhao has created TV hits including The Story of Xiaoyan, Beauty in North and Red Sorghum. Housing is expected to be another classic by the veteran screenwriter.
"The theme of Housing will be qing (affection)," said Zhang Yongxin, director of Housing, adding that the TV series will be heart-warming and positive.
The setting of the TV series will be wholly in Baotou city and will present the landmarks and folk culture to a nationwide audience.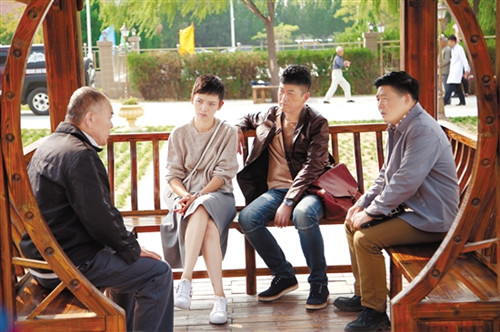 A scene from Housing, a TV series based on the events of a shanty house clearance project that began during 2013 in Beiliang, Baotou, Inner Mongolia autonomous region [Photo/Baotou Daily]