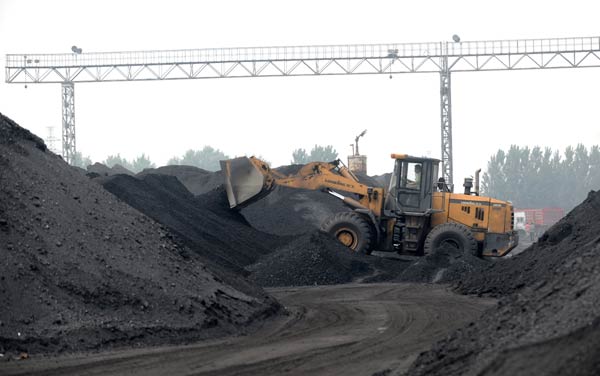 A coal transportation station in Taiyuan,Shanxi province.[Photo/Xinhua]
Banks in northern China's Shanxi province are actively implementing credit policies designed for the business circumstances of each individual coal mining company-to help drive an aggressive transformation and upgrading of the sector.
The director of the China Banking Regulatory Commission's Shanxi office, Zhang Anshun, said on Tuesday that 21 coal mines in the province would be closed in 2016.
He added that the government would take "coercive measures" to stop unauthorized production and construction work at another 16 coal mines.
The coal mines, owned by the seven biggest State-owned coal mining groups in Shanxi, had a total of 4.96 billion yuan ($743 million) in outstanding loans.
Zhang added that coal companies that proactively cut excess capacity and still maintained output, despite facing deteriorating performance and liquidity difficulties, would continue to receive the support of banks in the form of renewal of their loans.
Up to now, banking institutions have renewed 41.8 billion yuan in loans for 109 coal mining companies in Shanxi. Each of the companies has set up a creditors' committee.
According to the CBRC, a creditors' committee is a temporary organization established by at least three banking institutions that are creditors of a company that has difficulty in repaying a large amount of debt.
Members of the committee form a joint credit management mechanism for the company and take concerted action in helping it go through hard times and to discipline its spending.
"Banks will continue to support rational credit demands from high-quality coal enterprises, especially provincial coal mining groups, rather than recalling loans in advance and stopping lending to them," Zhang said.
As of Tuesday, banks have provided the 109 coal mining groups with accumulated financing totaling 215.4 billion yuan, up 5.4 billion yuan from the start of the year.
Banks also granted 1.32 billion yuan to these companies for debt restructuring, and the loan balance for mergers and acquisitions of coal companies reached 2.87 billion yuan.
Song Zuojun, vice-president of the Shanxi branch of China Construction Bank Corp, said the CCB listed 22 coal enterprises in the province, including Shanxi Coking Coal Group Co Ltd, as companies with high-quality production capacity.
Apart from renewing maturing loans to Shanxi Coking Coal Group, the CCB also offered 245 million yuan of new loans and 500 million yuan of wealth management products to the group. Both were medium and long-term credit products especially designed according to its production cycle.
Deputy director of the CBRC Shanxi office, Wang Zhigang said that China's economic downturn caused companies to extend production at high levels and disrupted payments by customers for their products, forcing the coal firms to apply for frequent loan renewals.