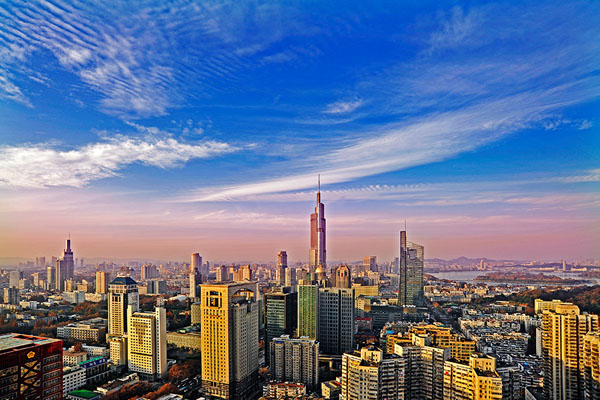 Overview of Nanjing, capital city of East China's Jiangsu province, Dec 4, 2015. [Photo/VCG]
NANJING - Two cities in East China's Jiangsu province announced new measures on Thursday to contain rising house prices.
Nanjing, capital of Jiangsu, is to raise the minimum down payment for second homes, if any mortgage on the first is still owing, from 45 percent to 50 percent. If the mortgage on the first home has been paid off, the down payment will increase from 30 percent to 35 percent.
In nearby Suzhou, the residential land bidding deposit was raised from 20 percent to at least 30 percent of the starting price, while down payment of land-transfer fees rose from 50 percent to 60 percent or above. Full land transfer fees must be paid "within three months." The city will make more land available for residential purpose until 2018.
Down payments on second homes with mortgages still owing on the first will rise from 40 percent to 50 percent in most of downtown Suzhou, where non-permanent residents must now provide evidence of personal income tax or social security payments.
The Political Bureau of the Communist Party of China Central Committee declared that "China will impede the growth of asset bubbles," at the end of July. Supply-side reform in real estate should reduce both the growth of the bubble and home prices. Yet, the property market has effectively split this year.
Among 70 cities monitored by E-house China R&D Institute in the first half, 44 saw inventories fall and 26 saw their inventories grow. In bigger cities like Suzhou and Nanjing home prices are rising swiftly while in smaller cities, a huge overhang of unsold houses remain a headache.
Previously, authorities had cut interest rates, reduced down payments and removed restrictions in all but the very biggest of cities to stimulate sales. Now, in places like Nanjing, new home prices are growing at over 30 percent a year, but according to industry insiders, these down payment adjustments are minor and will do very little to curb speculation.
Shenzhen and Shanghai have already attempted to rein in speculation. In Tianjin and Wuhan, the mortgages from housing provident funds were capped in July, and banks in some cities have taken similar measures against developers.
Raising down payments and reducing leverage could help reduce the number of plots sold at record prices, and the bubble caused by excessive capital in the market, according Yan Yuejin, an E-house China analyst.
Tightening finances and land supply is an attempt to stop crazy purchases by developers, said Zhang Hongwei, a researcher with Tospur, another real estate firm. The new policies will affect small and medium-sized developers much more than large companies, who have multiple financing means.
Pu Dongjun, an analyst with Changjiang Securities, predicts house sales will slow in the second half of the year as demand falls and new policies kick in.