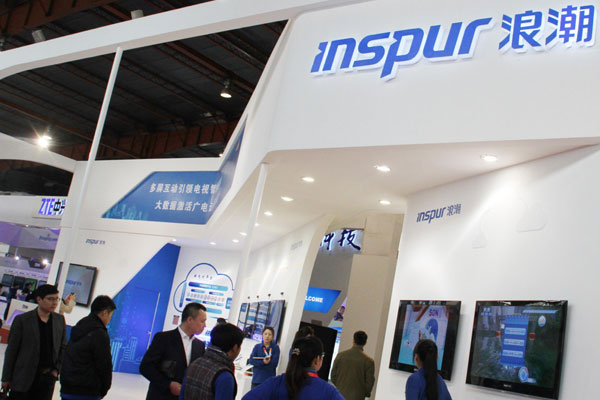 Products of the Inspur Group Ltd are on display at an exhibition in Beijing. [Photo/China Daily]
China's largest server maker Inspur Group Co Ltd teamed up with Ericsson AB on Wednesday, to tap into opportunities brought by cloud computing and Internet of Things (IoT).
Under the deal, the two sides will jointly design and build internet data centers and telecom equipment for countries along the "One Belt and One Road" initiative, which was proposed by China to promote trade and communications with Asian and European countries.
Inspur will combine its edge in cloud computing with Ericsson's 5G technology to help build smart city projects, with focus on smart parking, green energy, smart home and other areas.
Sun Pishu, chairman of Inspur, said: "Our two companies' businesses are highly complementary and the tie-up will help deliver better technological solutions."
The move is also another sign that an increasing number of foreign tech giants choose to partner with local companies to expand presence in China, so as to ease the central government's concern over national security.